FREE Carp Spirit & Dynamite Pocket Guide inside the May issue – on sale now!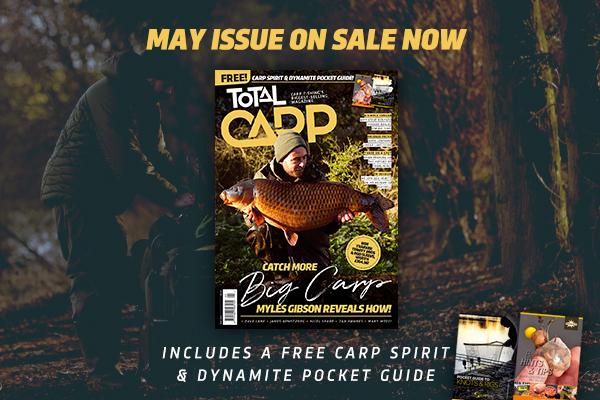 After the 'blip' of warmth at the start of April, we were plunged back into the ice age and I even managed to catch my first snow carp…in mid-April! With snowflakes falling the size of a 50p piece, Luke Vallory's quest for a forty was NOT going to be a walk in the Swan Valley park!
Over in Kent, Dan Hawkes spends 24hours on a new day-ticket water in hope of catching live for the cameras and, despite a frozen water bottle in the morning, the session was a success!

Then it's off to Oxford where Jamie Londors reveals everything you need to know about Oxlease Lake. In fact, he knows it so well that he managed to bank a number of carp in just a few hours, while we put together his guide to the venue. What more proof do you need? If you're heading to Linear, this guide is a must have!

This month it's cover-star Myles Gibson's turn to get in the bath and proclaim his Eureka Moments and even has a new forty pounder to show exactly why he does what he does!

Adam Penning returns to the fold with his thoughts on the prolific tactic of tramlining and Laney kicks of his brand-new series; 12 months of Carp Fishing.

There's loads more great content from top anglers including Steve Renyard, Nigel Sharp, James Armstrong and Kev Hewitt plus a FREE pocket guide packed with knots, rigs, bait hints and tips from Dynamite Baits & Carp Spirit!

Pick up the mag, enjoy the read and hopefully we'll get some more spring sunshine too!
Matt Townend
Editor
Top Picks:
BACK TO BREAD-BOMB BUSINESS
With night fishing and travel firmly back on the agenda, it's back to normality for Alan Blair and that means Road Trips and Bread-Bomb Business! Multiple types of venues, kids from the estate and some bangers thrown into the mix – it's carp fishing just how Alan loves it!
SNAG SUCCESS
Catch a carp from the snags… with just a day at his disposal we join Ian Russell at Thorney Weir and as you can see it didn't take long for the feature to be a success! Get it right and snag fishing can lead to quick success, so don't hang about, head to page 24 and Ian will show you how.
EUREKA MOMENTS
Want to learn how to consistently catch big carp? It certainly won't do any harm taking a leaf from Myles Gibson's book, that's for sure! From page 16, Myles outlines some of the game changing realisations that formed the angler he is today!