CRAFTY CATCHER | Peanut Pro Superfood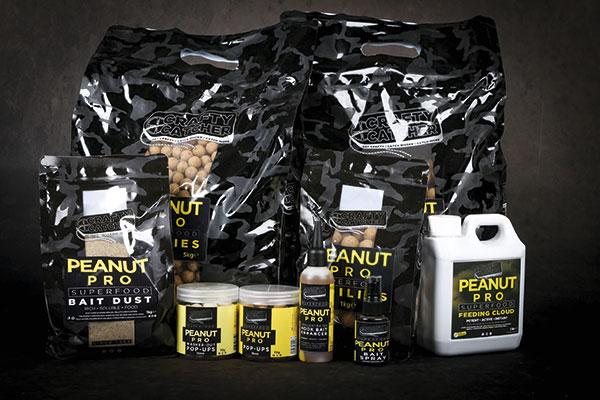 Established in 1984, it is fair to say Crafty Catcher has a wealth of bait related knowledge and experience under its belt; this month we take a look at arguably one of their most famous baits, the Peanut Pro!
If you were a budding carp enthusiast in the 1980s no doubt you will remember Peanut Pro; having stood the test of time with the anglers in the know, it was a widely used and highly successful bait blend used on pressured UK and European waters.
Peanuts have always had a special albeit controversial place in carp fishing, but no one can dispute their effectiveness for putting fish on the bank. When you have a team of scientists, carp chefs and specialist anglers all in one house, they do the hard work, valuable research and processing to utilise the benefits and harness the power of such a bait and craft it into a wide array of products that will only benefit the carp and up your catch rate,
The Peanut Pro Superfood is a bespoke blend of peanut and tiger nut meals with brewer's yeast, betaine, milk powders and bird foods topped off with blended nut oils, and not to mention the addition of the original Peanut Pro flavour, which together combine into a nutty treat with a huge amount of attraction and nutrition.
There are plenty of items in the range to suit a wide array of carp fishing techniques and feeding scenarios you may wish to create, including: We particularly like the look of a few of the below products to help make your bait stand out from the crowd.
The Feeding Cloud is an interesting liquid product that comes ready to use – simply shake the bottle to activate the ingredients and pour over your desired bait mix to add extra attraction.
The Bait Enhancer is another liquid designed to increase your bait's pulling power; simply pour over your hook baits, stick mixes or even squirt directly into a solid bag for an immediate boost of flavour and attraction.
Last but by no means least in the wide array of the extra baits available within the range is the Bait Dust, a powdered mix that can be used to pour over soaked baits, to give them a "dusting" of attraction that will disperse into the swim creating feeding signals throughout the water column and around your bait.
Peanut Pro Superfood Boilie Range RRPs;
Shelf Life Boilies 15/20mm: £11.99
Pop-Ups: £5.99
Washed Out Wafters: £5.99
Washed Out Pop-Ups: £5.99
Bait Spray: £4.99
Feeding Cloud: £10.99
Bait Enhancer: £6.99
Bait Dust: £9.99
WEBSITE: www.craftycatcher.com