CARP SPIRIT | Blax Multi Net & Magnum X1 Multi Net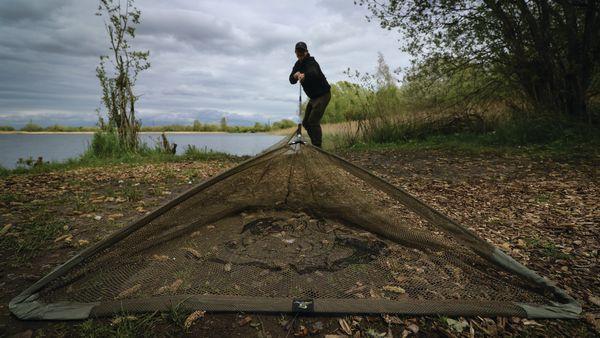 It is often the case whenever you are looking to buy a new landing net that you will receive what is considered a standard 6ft handle, or in some cases a two-piece version. Well, Carp Spirit has taken this one step further with its three-piece Multi nets, offering the angler has the ability to switch between a 3ft, 6ft and 9ft landing net handle depending on the situation they are faced with.
Nets with a 3ft reach are the perfect choice when poking around dropping rigs in small holes with short rods in the undergrowth, as well as fishing from a boat. The 6ft combination is of course the most universal size for the majority of our angling needs, while at full stretch the 9ft is just the ticket when zig fishing or for reaching past lily pads and weed beds.
Yellow bungs are used for the protection of each of the joints when using one or two sections, yet they also serve to be a great visual aid when light levels are low. A small but strong magnet installed on the bottom of each landing net mesh prevents the net from snagging unexpectedly. Japanese shrink wrap has been placed with careful thought on areas of the handle sections that require superior grip.
Of course both the Blax and Magnum X1 Multi Nets match the aesthetics of their respective rods, complementing the styling and quality of components used. The grade of carbon used to build each net handle differs and this also applies to the spreader blocks on each. This along with a number of differentiating features is where the extra money goes should you choose to invest a little more cash for the Magnum X1.
The Blax Multi Net spreader block has been created out of a lightweight moulded nylon, which is extremely strong and will support heavy loads. The Magnum X1 Multi Net is treated to a lightweight carbon spreader block in addition to its lightweight three-piece carbon handle, and being super light it is extremely easy to manoeuvre even when submerged.
The Blax also uses rolled aluminium net arm ends as opposed to the rolled stainless steel used on the X1. Both offer superb strength, giving the angler an easy experience when setting up and packing away. With the Magnum X1 Multi Net there is also the ability to replace or re-tension the front cord when required. Both nets feature the very best super-soft fish friendly mesh – green of course – and display a laser etched aluminium butt cap on the Blax and a stainless steel variant on the Magnum.
RRP: £99.99 / £139.99
WEBSITE: www.carpspirit.com