AQUA PRODUCTS | Atom Plus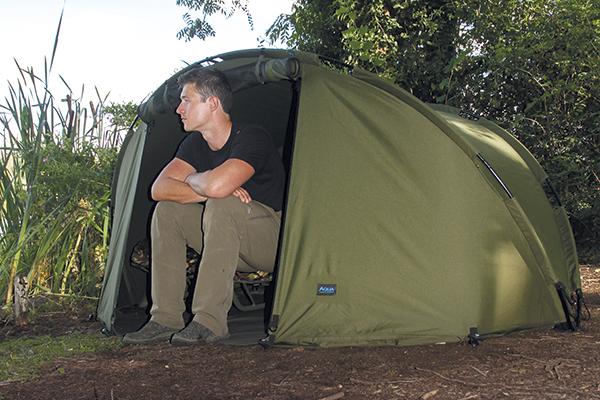 ATOM PLUS BIVVY
Many of you will remember the release of the Atom shelter in 2015 from Aqua Products, designed and sold as the smallest and lightest shelter on the market and targeting anglers who wish to take the absolute minimum when fishing. There has since been a demand to retain the exact same design but to increase the overall dimensions of the system, providing that little extra room inside for added comfort.
That very demand has been answered by Aqua with the release of the Atom Plus, weighing in at only 6.3kg, clearly still very much suited to the angler who likes to keep on the move.
Performance-grade Aquatexx is synonymous with the Aqua Products range and the Atom Plus makes full use of this durable material. By utilising the pram-hood bivvy design with two pre-formed aluminium ribs that break down into five pieces, the pack-down size measures in at an extremely compact 78 centimetres long and 21 centimetres wide. That's the equivalent of two average sized two-litre water bottles sitting side by side!
The overall size of the Atom Plus when erected measures 265 centimetres wide, 167 centimetres deep and 155 centimetres high. A single rear vent provides adequate ventilation reducing condensation and with the internal dimensions of the bivvy now increased, most single bedchairs will fit inside no problem at all, without touching any of the sides, giving the added benefit of sleeping bags not getting wet from any possible moisture on the inside of the Atom Plus.