WOLF | Mozzi-Zappa (Video)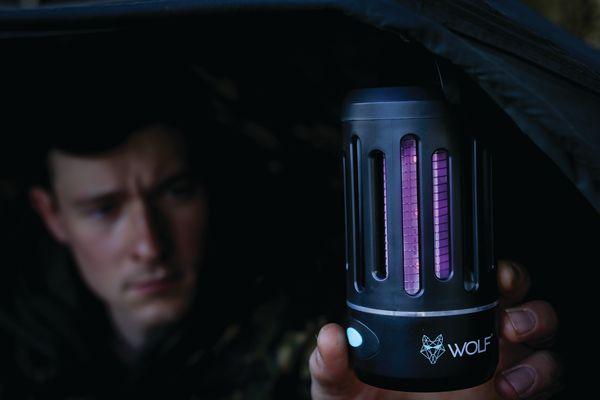 Finally the warmer weather is upon us, but with these glorious conditions it is just a matter of time until we hear that unwelcome buzzing as you try to sleep or feel the sharp realisation that you have just become the next snack for the hungry mozzi encroaching in your swim. Thankfully Wolf has decided enough is enough, and is bringing to the market a two-in-one rechargeable mozzi-zappa and bivvy light solution!
The battery operated mosquito killer lamp cleverly utilises a blue light with a precise wavelength to attract mosquitos and other flying insects to the device, which then emits a powerful 800V electric shock, killing them quickly and efficiently thanks to the high voltage grid, which is encased inside safely. The aptly named Mozzi-Zappa utilises a hanging lamp design ensuring the light distribution curve of the LED is comparable to a tried and tested filament bulb. The lamp itself offers an effective LED light output that can easily be recharged on the bank, so is perfect for even the longest of sessions, or family camping trips to boot!
The torch function offers 100 lumens of light to carry out a multitude of tasks in the dark and can simply be switched to either light and zapper, light or just zapper, depending on your situation and how many flying critters are causing murders in your swim.
Supplied with a user manual, USB cable for charging and a brush for cleaning, the Mozzi-Zappa's 1200mAh lithium 18650 battery can be fully charged in just three and a half hours and has a working time of 10 hours for emitting just light, an impressive 14 hours when switched to killing mode, or four and a half hours when using both the light and killing function simultaneously.
RRP: £19.99
WEBSITE: www.wolfint.co.uk
To find out more about the mozzi-zappa and bivvy light, watch the video below.