VASS | E-Bac Trainers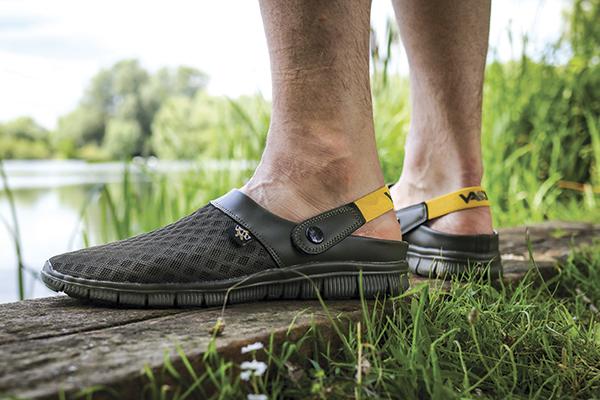 The warm weather is no time to be wearing boots as nobody likes sweaty feet; socks and sandals are a definite no-no for sure, so what else is out there for the angler? Trainers are a great alternative but how about a specially designed piece of footwear to be used while fishing, something that is lightweight, comfortable and breathable. The all new E-Bac Fishing Trainers from Vass tick all of the above boxes and in fine style too.
There are endless scenarios where you will find yourself wearing this awesome bit of footwear. Simply fold the trademark yellow strap forward for easy entry when you receive a take. Alternatively, should a long walk be the order of the day, simply slip the straps back on your heels.
Being extra lightweight the E-Bac trainers are perfect for those out there who like to travel light and they also come supplied in a reusable storage sack, which is netted. Should you need to take a path that proves to be lumpy and bumpy you can be safe in the knowledge that there is sufficient grip on the bottom of the sole to avoid any unwanted slips, plus your feet will be protected from any unseen objects.
Vass have made sure to bond their insoles into the trainer to avoid separation, which can occur with your standard trainer especially when no socks are being worn. The Khaki Green is the perfect choice of colour and fits perfectly with the other products in the range.
The E-Bac is available in sizes ranging from UK size 6 to size 12 and for the price these really are a handy piece of kit!
RRP: £32.95
WEBSITE: www.vassrainwear.co.uk