Three On A Spot Smash-Up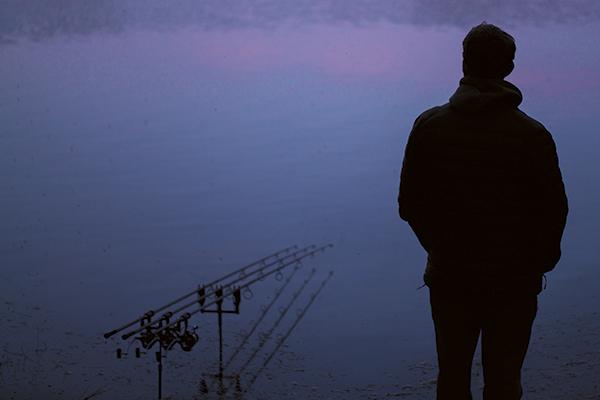 Always envying the big-fish syndicate tickets that today's big names all seem to have access to? For me, day-ticket fisheries can offer a better chance of a big carp than many of these exclusive venues.
It's actually never been easier to catch a stack of twenties, be in with a good shout of a thirty and even have a chance of a 40-pounder all for the price of a day ticket. Some of the most sought after carp in the country these days are found in lakes that anyone can turn up and fish.
Although they can be busy I find open-access waters some of the most interesting lakes of all, and no matter how much or how little preparation I have done I reckon there is always a likelihood of some action – high stock levels giving everyone a good chance is the basis of successful fisheries.
Syndicates often attract people who routinely fish the same venue, often even the same swim and there can be a big emphasis on campaign-style angling where baits are established and prebaited for long-term results. On ticket venues, it's the opposite – roll your sleeves up and get stuck in for the time you have available. I like that simplicity and that level playing field. Day-ticket fishing tends to be what you make of it.
Busy Banks
You can catch carp quickly anywhere given the right conditions, but I like a couple of nights at my disposal so if I need to I can move to get on the fish should a better swim become available. Make no mistake, sometimes the banks will be busy and it can be hard to get in front of carp when you arrive.
But in your favour a lot of anglers settle for the perceived 'best swim' on the lake despite it possibly not being the best one for the session ahead. Whether it's because they heard about a swim from a film or magazine you always find a few of the better known spots are the first to be occupied.
I never go with any preconceived ideas. If the venue has more than one lake, I won't even narrow it down to a single water, preferring to keep my options open until I know for definite where I want to fish. More than once I have been on a complex and the venue I thought I fancied was fishing like a drain, but the carp were jumping all over the place in the pit next door!
First thing to do is take a walk around with a bucket and see what swims are available. You are always looking for an area with carp activity, either fish showing or fizzing or maybe just cruising about. Many people fail at this very first stage and jump into a comfortable or well-known peg.
Once I have found an area with a few fish to go at it's common sense to try and get a quick bite with a solid PVA bag, single pop-ups casting at showing carp, or a zig if the fish are up in the water. Sometimes you can start a session hitting the jackpot just by fishing for what is there and what you see, instead of casting markers around and potentially killing your immediate chances.
Next Best Bet
More likely however, you won't have carp served up on a plate like this and you have to think forwards. If I can't get the swim directly in front of fish activity, I look for a peg that could potentially produce fish later on in the session should the weather change or the carp move.
If the fish are also clearly not in front of me, then and only then will I commit to finding a spot for all my rods and getting some bait in.
I use a 4oz lead on braided reel line to get a feel for the bottom and what the swim is like, casting methodically from one side of the swim to the other and investigating any areas that feel like they have some potential by feeling the sensation through the rod tip as the lead touches down on the lake bed and also how it feels when I draw it back along the bottom. I am looking for an area of silt or gravel to feed my mix on, rather than fishing over or in weed.
Because my bait mix is full of small bits and pieces I prefer a firm bottomed area rather than having small food items hanging up in the weed. As a rule, an area that gives a clean thud on the rod tip as the lead lands on a tight line has some potential. If the bottom is smooth as well as hard it is generally even better.
Always Accurate
If you are laying the table with some feed for a potential hit of what can be good average size carp you need to be able to get rods over the feed, night and day. Too many carpers still struggle if they catch an unwanted bream or tench, and then suddenly they aren't fishing confidently any more and the rig isn't even guaranteed to be back in the right place over the free bait.
You must use distance sticks and know how many wraps you need to clip the line at to land back on the feed, and the line needs to be marked so you can do this quickly without having to repeatedly take a measurement from the sticks. I use matchman's pole elastic and tie a marker knot so that when it sits at the middle spigot of my rods I know to tuck the line into the spool clip and my rig will be consistently dropping on the spot. By using two pole elastic markers sitting a couple of inches apart I also have a safeguard against a marker knot slipping, which can then see you fishing in the wrong area without even realising.
Starter's Orders
How much bait do you put in to begin with? Lots of factors influence baiting levels but for me fishing three rigs tight on a spot is a positive tactic rather than a negative approach, so I like to give the fish something to go at. At any time of year when carp are active my starting point is seven spods, which is still enough to get a bite quickly, and as you can be turning up at bite time on a lot of fisheries the first morning you are there it pays to be in with a chance rather than really filling the swim in.
With the traps set it's all about watching the carp for clues what to do next. I am happy to leave hook baits over the feed until I think the chances are gone, often late morning in the summer when the carp tend to have finished feeding and come up in the water.
I'm also happy to leave things alone because fishing three rigs so close together means I am always confident of a take. We all know carp can eject rigs and can mug you off without so much as a bleep, but with three rigs there I know that even if one of them has been spat out and is being avoided I'll still have rigs that are fishing effectively and one of them inevitably produces a take if carp come to feed over the spod mix.
What I do avoid is making more disturbance with a marker rod or adding more bait unnecessarily when there's a chance of action. Keep the disturbance to a time when the lake appears quiet – for example, early afternoon so your rods are out and the spot is topped up ready, and you are fishing and organised for the evening, into dusk and through to the following morning.
The 'S Mix'
Keep it simple, use the best bait you can and stick with one that catches for you. My go-to combination is my own 'S Mix' – Scopex Squid, syrup and sweetcorn.
Into a bucket goes a kilo of 12mm Scopex Squid Stabilised boilies, half a kilo of the same bait but as Flaked boilies, a good splash of the sweet and dense Scopex Squid syrup to cover the boilies and soak into the Flake and then a kilo of good old supermarket value-brand frozen sweetcorn.
All the bait is kept small to hold a shoal of fish in the area for longer, and the Flake in particular keeps them grubbing around a long time, prolonging the chance of a bite. I prepare my mix in advance, and with some thought you can have your mix soaking in a bucket while you are walking around the lake or even when searching for spots with the marker rod.
Add the syrup plus some lake water to the Flake and 12mm boilies to soften up the bait and ensure it is leaking attractors instantly and is also easier for a carp to eat than hard individual boilies. The liquids that soak in also make the bait nice and heavy, which means that it falls from the spod quickly and stays nice and tightly grouped over the rods rather than spreading out as it sinks. It's a really easy to make mix that I have amazing confidence in and has accounted for some large day-ticket carp for me through the season.
The Reset Rig
I like a rig that is simple to tie so I can make lots of them and quickly, plus it needs to be strong as there are often chances of really good fish. But the most important element is that the rig needs to reset itself so it is likely to be fishing effectively even if it is ejected or shaken and spat out by a tench, for example.
The all-conquering Ronnie rig is a great solution, look no further for a reliable rig over your baited spot. I use the Fang Gyros with the swivel inside the eye to remove any weak points and prevent the chance of a crooked swivel snagging net meshes when carp are landed. Plus the Gyros are evil sharp! With a boom section of 25lb semi-stiff Skinlink to the ring swivel on the Gyro and a tungsten knot bead pushed on it my pop-up hook bait is perfectly balanced and it works for me everywhere.
Choosing the right hook bait is hugely important; you want it to be the most attractive thing in the swim to ensure that you get quick bites. I always start with a Cultured Pop-Up, the external skin breaking down over several hours and oozing soluble liquid and powdered additives.
Carp really home in on them over a bed of bait. On our recent media trip to Hungary to meet all our Euro teams the whole lake ended up using Cultured Pop-Ups and bottom baits and they noticeably brought the fastest response of any hook bait over baited areas.
Top-Up Time
On most ticket fisheries you are looking for a hit of big carp, especially when you lay the table for the fish rather than relying on singles or bags for an odd bite. Once you get your first bite it is vital to keep the bait going in regularly on the spot to maintain the feeding activity. As soon as I net a fish, I get the spod rod out and top up with three to five spods of bait mix over the rod. This is the key. If the fish can be left safely in the net over the front of a swim or platform try and get the rig replaced and the rod cast out again too. A little more bait will often spark interest and could lead to another quick bite over the spot.
Often the fish won't be on top of you for significant periods of your session and it will be too busy to move, so you have to make the most of the feeding spells when they come. If you can just do what is required to get that first bite you could be at the start of a memorable session where catching big carp becomes easier than you ever thought possible.
On a recent trip to Bluebell's Mallard Lake in Northamptonshire, I managed eight bites in a session using this exact approach. I arrived to a busy lake with just a couple of swims free on 20 acres. It became clear the fish liked a deeper gulley for feeding during the night and early morning before they went on to the shallows during the day to relax and cruise about in the heavy weed.
With that in mind I baited heavily during the day ready for the fish to turn up in front of me in the hours of darkness, adapting my baiting and fishing time to the carp's routine to make the most of the time available.
Day-ticket fishing is often overcomplicated by the anglers. Find a swim with carp in it or where they will most likely arrive at some point in your stay, find an area where you can present a hook bait well, feed a proven spod mix and fish three rigs accurately over your feed. This style of fishing has taken my results through the roof, and not only fine-tunes your feature finding, casting and baiting skills but gives you a tactic that will produce multiple day-ticket chunks everywhere you take it. Get three rods on that spot!