Springing into the March issue!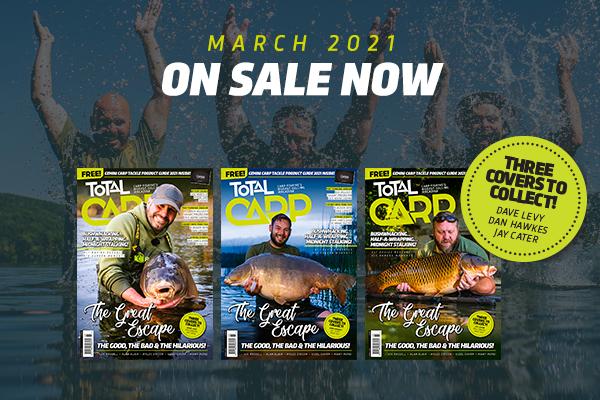 However, it's still early doors and we're not out of the woods just yet! Remember people, spring officially starts on March 20th, marked by the Spring Equinox, but we've still had blizzards in April!
With this in mind, the March issue of Total Carp brings some great tips for early spring when it's all about finding the carp, getting a bait on them and hopefully catching them!
Tactics like zigs, single hook baits and PVA bags, sticks and stringers are exactly the sort of presentations to trick a curious carp that isn't quite switched on to feed and with our all-star line-up showing you how it's done, it's just a case of putting theory into practice!
Alongside the top tips for early spring fishing, we've teamed up with the RidgeMonkey boys to bring you the best (and worst) bits of their adventures abroad!
Dave Levy, Dan Hawkes, Jay Cater and James Armstrong have some great tales to tell, as well as some key lessons learnt from the plethora of waters they visited – we've even produced three different covers for you to collect!
We delve into a world of Bushwhacking, half-a-wrapping and midnight stalking! There could only be one angler we're talking about here… Oli Davies.
In this issue he reveals some mind blowing eureka moments that changed his fishing forever and could change yours too.
FREE inside for every reader is a 24-page Gemini Carp Tackle 2021 Product Guide and ­back by popular demand is a fantastic subscription deal featuring a CC Moore Live System/NS1 bait bundle.
Make this the last time you buy a single issue at full price and get yourself signed up!
Whether it's tips for early spring, inspiration for the adventures of the year ahead or checking out the latest and greatest carp gear, then you're sure to find it all in the March issue of Total Carp!
Top Picks:
THE GREAT ESCAPE
Dave Levy, Dan Hawkes, Jay Cater and James Armstrong reveal (almost) everything about their adventures away while filming for RidgeMonkey.