SHIMANO | Trench Deluxe Food Bag (Video)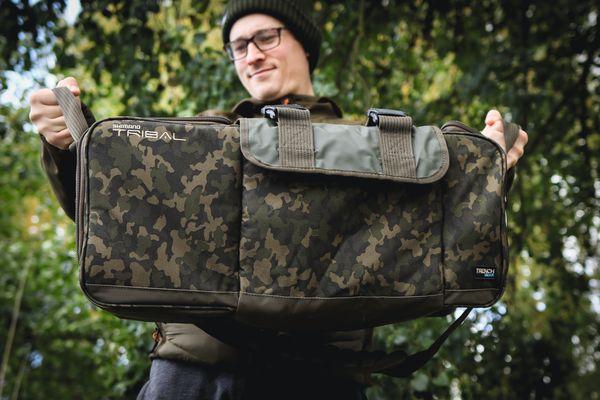 Long-session angling demands plenty of food and drink to keep us fuelled for the fishing ahead. Scrap the need for a multitude of plastic bags, carryalls and coolbags with a one-stop solution in the form of Shimano's very own Trench Deluxe Food Bag. Measuring in at 63cm in length, 26cm in width and 27.5cm in height this food bag can hold a serious quantity of refreshments, as well as all the kit to prepare and eat those culinary delights!
There are three main compartments featured on the food bag, starting with the one large end compartment that has been specifically designed for storing pots and pans. Inside this compartment is a wipe-clean PVC lining should dirty pans be stored away before venturing home. The centre compartment is where food and drink can be packed to the brim and it has been given a high quality thermal lining to keep everything cool for prolonged periods. A look inside the third and final pocket reveals enough cutlery and utensils for two anglers (or those who don't like to wash up!).
Every compartment on the bag utilises the durable and free flowing Duralast Zippers, which make for ease of opening and closing even in adverse conditions. The Trench Deluxe Food Bag is also a very aesthetically pleasing kit too, which is as expected from the Tribal Series, but most importantly this is an extremely practical piece of luggage. Should a bivvy table be required for the long session ahead, it is possible for it to be strapped on top of the food bag, with the compression straps helping to keep everything organised.
Transporting such a heavy load when full is no issue either as there are two very strong carry handles installed on either end of the bag, as well as the supplied Aero quiver strap that allows for a shoulder carry. Finally, as with all the Trench gear, the Deluxe Food Bag is designed to work seamlessly with the other items in the range and fit perfectly on to the Trench barrow.
RRP: £114.99
WEBSITE: www.fish.shimano-eu.com
To find out more about the Trench Deluxe Food Bag, watch the video below.