RIDGEMONKEY | Clear Bucket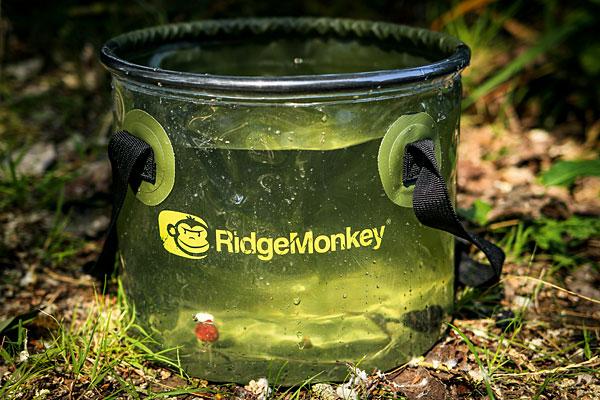 Testing rigs in our opinion comes straight after location! There's nothing worse for an angler to get to a lake and the edge clarity is zero or weedy… confidence comes from seeing that rig fall and sit exactly as you want it. RidgeMonkey once again has taken a problem and provided a solution that not only solves it, but also combines as one of their current products. Multi-use products are why RidgeMonkey has fast become a mainstream brand in all that it does.
We introduce to you the new Perspective Collapsible 10-litre Bucket – it's the current bucket everyone loves… but clear! Yes, as we have pointed out – testing rigs in this bucket is a use that many will appreciate; however, this bucket can be used as a wash hand basin, storage bucket, bait bucket, drinks chiller, the usual water bucket to keep those fish wet and many more uses. It really doesn't get any better, although did we mention it squashes flat to take up almost zero space in your luggage?
Made from high quality materials to ensure it also stands the test of time, strong carry handle for easy carrying when filling and a built in D-ring located on the side bottom end to assist pouring; this is certainly a bucket we believe every angler should have. You simply cannot look at this item and think "don't need it," – you really can't!
RRP: £11.99
WEBSITE: www.ridgemonkey.co.uk