Quick Questions With… James Salmons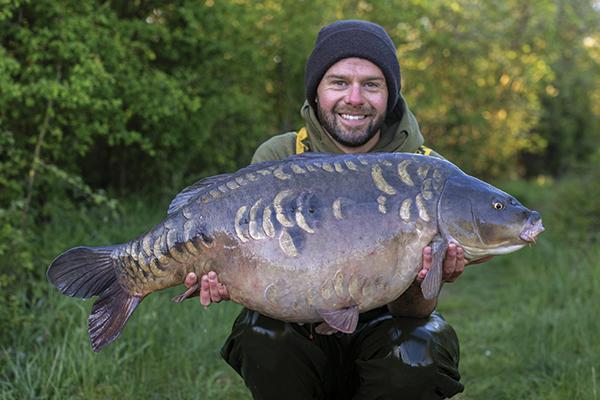 Hard working weekend angler James Salmons takes a few minutes out to answer our questions.
Three words to describe yourself?
Principled, outgoing, dedicated.
Who have been your biggest influences in carp fishing?
My Uncle John, who got me into fishing and like most people from my generation, Terry Hearn.
Scariest moment on the bank?
Fishing an overnighter on a park lake at 15 while a random bloke was sat on a bench all night just a few yards away from me. I never slept a wink!
How long have you been carp fishing?
Twenty-two years and counting.
How did you start carp fishing?
I was introduced to fishing by my uncle, originally just coarse fishing before moving on to the river for barbel and chub. That all changed when I caught my first carp though!
Other sporting interests?
I'm a big football fan and follow Nottingham Forest. I also play a lot of squash when I'm not fishing. I will literally watch any sport on the TV!
One day left to go fishing, where would you go?
I'd probably go back in time and fish a lake near me called Bleasby. This is where I really fell in love with the style of carp fishing I enjoy most.
Worst fishing-related injury?
Touch wood, other than a few small cuts I've been pretty fortunate!
Best three anglers you've ever worked with?
John Hill, Barry Delderfield and Rich Morris.
Your favourite moment in your carp angling career?
Watching the fish I'd been chasing and obsessing over for a few years go in the net, one that I'd been so close to a couple of times in the previous years fishing for it too.
Favourite capture?
Stalking a mid forty target from under my feet after hours of watching it unfold. I'd actually lost the fish a few weeks before so it made the moment all the sweeter.
Three things you'd never go fishing without?
My petrol stove, polaroids and a few beers!
Any regrets?
Not getting on waiting lists earlier and being left in limbo without anywhere to get my teeth into.
Biggest character you have met through fishing?
Dave Finn!
What are your favourite bits about carping?
Just being out there and being in nice surroundings joined by like-minded people, and nothing beats the buzz of a target fish capture, especially when shared between good friends.
Your least favourite bits?
The jealous nature of some anglers and the overwhelming desire to catch at all costs by others.
Who do you most admire in carp fishing?
Danny Fairbrass for all that he has done for the sport and everything he gives without wanting anything in return.
Tell us a secret?
My girlfriend and I have a baby on the way!
Tea or coffee?
Coffee in the morning, tea in the afternoon.
Favourite biscuit?
Chocolate Hobnobs, obviously!
Favourite take-away?
I like them all too much to choose one!
Funniest moment on the bank?
Watching Dave Finn wind in a lovely red thong that had been attached to his hook all night. Priceless.
One fish you would have loved to have caught – past or present?
A fish known as the Italian from Bleasby. The first big fish that I ever saw in the water. Although a massive effort was made, I never got lucky enough.