Our February issue will see you through the worst of the conditions!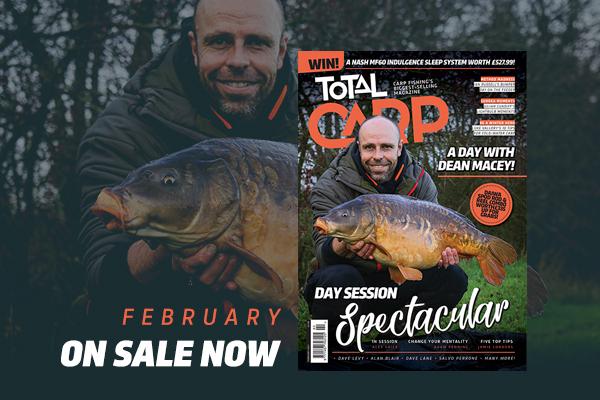 This issue is packed full of great tips, tactics and tricks to help you bag a cold weather carp and what's more, with current restrictions firmly in mind, we've made it a 'Day Session Spectacular' – based largely around day-session fishing and how you can get the most from it.
Headlining is Olympic Decathlete and all round nice guy Dean Macey, who we were lucky enough to get out on the bank with for a day session at his local. It turned out to be a cracking little session which couldn't have ended with a nicer carp for Dean.
We delve inside the mind of Dave Lane to find how he approaches day sessions, reflect on some of Adam Penning's previous day-only successes and spend a day fishing the feeder with Ian Russell – it's an underused tactic which kept the bobbins bouncing!
Plus there's loads more great Day-Session tactics from the likes of Alex Grice, Gav Walding, Jamie Londors and many more, alongside the regular features that you've come to love!
All-in-all, the February issue provides everything you need to make the most of your next day on the bank!
DAY ON THE CIRCUIT
Editor Matt joins TV angling superstar Dean Macey for a productive winter session on a syndicate water in Essex – he even gets in on the action himself!
BIG-CARP MIND-SET
Dave Levy runs us through his last campaign session before lockdown. See how he bagged one last big 'un in this month's issue.
EUREKA MOMENTS
Regular columnist Julian Cundiff gives us an extra feature this month, with the game-changing moments from his angling life and career.