New Year, New Issue!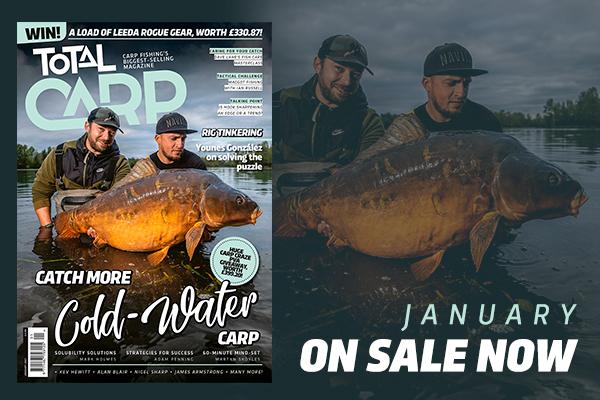 It's tough out there right now but we've got plenty to keep you busy during lockdown...
Mark Holmes draws his amazing Four Seasons of Bait series to a close, Martyn Skoyles shows us how to make the most of short winter sessions, cover star Younes Gonzalez gets experimental when all seems to be going wrong and Adam Penning takes a look back on his cold-water whackers.
Nigel Sharp is back with his big-carp mind-set, Kev Hewitt serves up a bloodworm banquet, we join Sean McKinney on a successful session at Stanwick Lakes, Jim Wilson is making every second count on a new winter water and editor Matt Townend recounts some of his favourite features during his time so far with TC.
We also have all our regular features from Alan Blair, Dave Lane, Julian Cundiff, Ian Russell, Luke Vallory and Myles Gibson.
James Armstrong keeps things easy in Rig Anatomy, the Dynamite & Carp Spirit team answer your carpy conundrums, Dean Macey goes under the spotlight for some quick questions and we have another huge selection of reader catches in Carp Scene!
Did we mention there's also a couple of competitions, no? Well there is!
A load of Leeda Rogue tackle and accessories and a Carp Craze PVA bundle are up for grabs so make sure you enter – you've got to be in it to win it!
There's also Talking Point, Bankside Cuisine, Icons, #totcalcarp, Have Your Say and oodles of new gear covered in our review section.
We sincerely hope our January issue goes some way to helping you get through lockdown, or take your mind off it for a while at least.
Stay safe and enjoy the magazine :)
SEARCHING FOR SOLUTIONS
Sometimes it all goes right and other times everything seems to be going wrong! Younes González isn't one to sit on his laurels when the going gets tough and proves that some careful thinking can usually set the world right once more! Younes outlines his thought process during one such session over on page 141.
FOUR SEASONS OF BAIT
It's the finale in Holmesy's bait series where he explains how he customises one bait to suit all four seasons. This month he's looking at solubility and pH, and how you can alter your hook baits and freebies to maximise their attraction in the cold water conditions. Head to page 14, it's simply a must read!
BIG-CARP MIND-SET
Nige Sharp's winter campaign was complete before it had even begun when he turned up to Frimley Pit 1 and banked Elly's Fish, the biggest in the lake, on the first time of asking. Little did he know that he would go on to bag one even bigger in the coming days! What else could the intimate pit be hiding… find out on page 52.