ICON | Donald Leney - The Start of Something Beautiful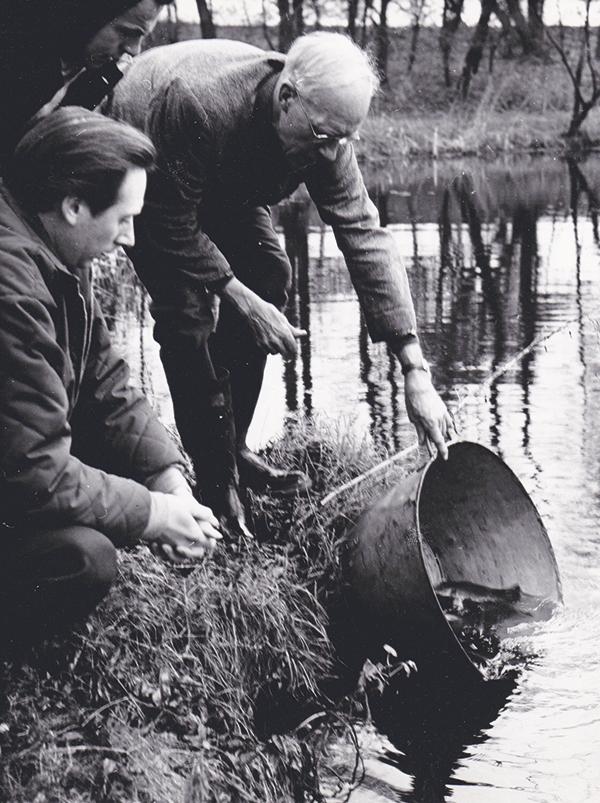 Donald Leney – The Start of Something Beautiful In present day Britain our lakes, rivers and canals contain more carp than ever. The diverse range of king carp now available to us across a variety of venues is thanks to those who have taken it upon themselves to breed and stock quality fish. We know now given the right environment, carp can live for several decades, grow to incredible sizes (the current British record stands at 68lb 1oz) and recognisable fish are often given names.
Carp fishing now is a complete contrast to that of 100 years ago when carp were much thinner on the ground as the demand for pleasure fishing hadn't reached the peaks of the modern day and as a result there were fewer anglers present. Anglers in the early 1900s commonly believed that carp were extremely difficult to catch and the art of learning how to do so took too long! So, who was responsible for the carp angling boom?
Several people have certainly contributed but the most notable is Donald Leney. He helped to shape British carp fishing as we know it by stocking many of the lakes we refer to as historic and iconic today.
From 1923 Donald Leney had been working for Surrey Trout Farms and, unbeknown to many, trout were his primary business interest. He had stocked numerous venues around the world with trout, although over time he had developed quite a noticeable soft spot for carp even though he himself was not strictly a carp angler.
Donald Leney was not a breeder of carp and in fact stocked carp that he imported. The fish he introduced across Britain and Europe, primarily between the late 1920s and mid 1950s, are commonly referred to as 'Leneys'. In fact, the breeder of his carp was Alfred Gasch, who in around 1900 blessed the world with his Galician carp strain, so called because the fish had originated from the Galicia region in Poland. Alfred had produced a well-proportioned, often scaly strain of carp that soon proved to be a steady growing carp. These Galician carp were very popular in Europe before, during and after the two world wars.
Few stockings of carp took place in Britain before the Second World War, although Donald Leney was one of the very few who thankfully took it upon himself to do so. Donald sourced his carp from a fish farm outside the village of Vassen in Holland; these were of the Galician strain and he would hire a railway carriage to transport the fingerlings he had handpicked.
Lakes back then were often stocked for ornamental purposes or weed control rather than for angling requirements and in 1934 Redmire Pool (previously known as Bernithan Court Water) required the introduction of carp for weed control. Only trout were known to inhibit the venue prior to this. As a result, 50 carp, which had been spawned in 1932 and consisted of mostly mirrors, were stocked into the three-acre estate lake on March 10th, 1934, ranging from five-and-a-half to eight inches in size. The water at the time was incredibly rich and there was little in the way of predation that could have posed a threat to the newly stocked carp. These 50 fish were to have the biggest impact on carp angling the world has ever seen, all thanks to Donald Leney.
The year of 1951 saw the first of three British record carp caught from the venue, when local angler Bob Richards landed a 31lb 4oz mirror on October 3rd. Only the year before, the first reported carp of 6lb from Redmire was caught by John Munro. Incredibly, less than 12 months later on a Saturday morning dating back to September 13th, 1952, Richard Walker caught a 44lb common carp.
The capture of this fish continues to remain a source of inspiration for many an angler and was later known by the masses as Clarissa (previously known as Ravioli). The carp then spent the rest of its life in the London Zoo Aquarium at Regent's Park.
Of course, there was now plenty of interest for the fish Donald Leney had stocked into Redmire Pool almost 20 years previous. Over the years, the likes of Denys Watkins-Pitchford (who wrote under the pseudonym BB), Bill Quinlan, Jack Hilton, Eddie Price and Rod Hutchinson ventured to Redmire Pool and experienced the magic of fishing the iconic venue. The last British record broken at Redmire was when Chris Yates caught the 51lb 8oz linear, christened the Bishop, on June 16th, 1980.