HASWING | Electric Outboards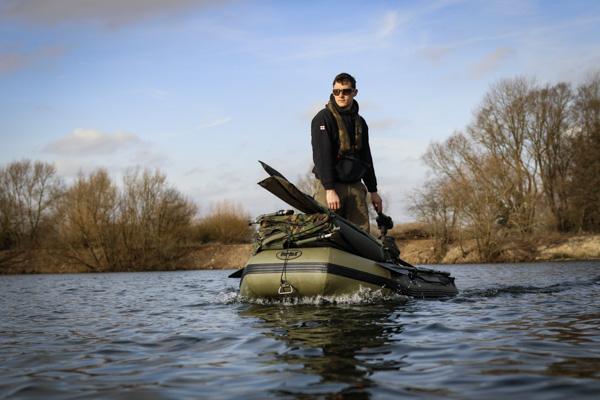 In the market for a new outboard motor? The options available from Haswing will have you covered, be it a midnight mission on an intimate pond or traversing a huge reservoir on the continent. The entire range is available from WWW.THARGO.COM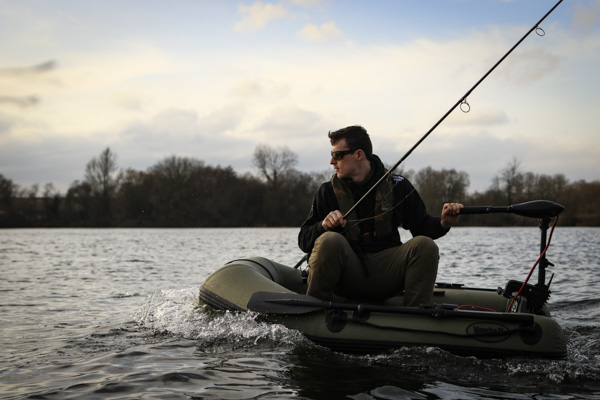 OSAPIAN
A motor which really will become a cult in the range, with its build quality setting it apart from the competitors.
With portability and performance incorporated in a motor designed to cater for the angler, it packs down to a small easily transportable size so can be packed into those tight spaces. The telescopic handle as standard means you are never extending outside of a comfortable reach, which is a great option and helps when the boat is loaded to the gunnels with gear and you can't quite reach the handle.
The tilt mechanism on the outboard has been designed with 10 levels of adjustment to make sure you have exactly the right angle to push the boat through the waves. The three different thrust capabilities range from 30lb for those smaller sheltered waters or as a secondary engine for trolling quietly, 40lb for the extra power when moving a load of gear across a lake, right up to the 55lb beast that would move a vast amount of gear a long distance through strong headwinds on large reservoirs.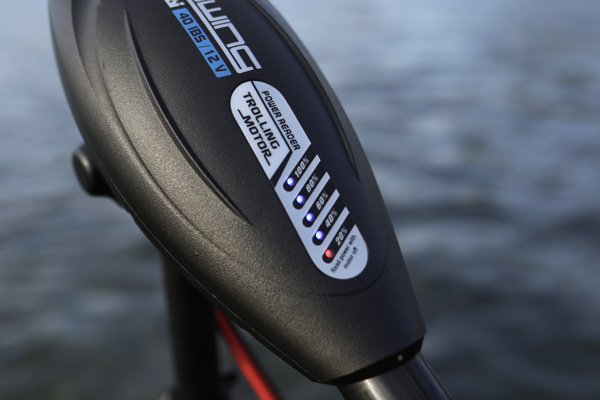 This motor has five forward gears and three reverse gears to give you fine adjustment when needed on those tricky days on large water bodies. The integral motor fin prevents prop and motor from underwater impact when moving over undulating ground. The holes on the clamp screw accept a padlock to secure the motor while fixed to transom, so no worries about losing the outboard overboard.
The real head-turning point of this motor is the quiet nature of it in operation, at less than 50db you really can creep up on cruising fish and observe them without them hearing you on approach, which is great when stalking your quarry.
The motor runs off a 12v 105ah deep cycle battery that will power a boat up to 5.5 metres weighing 400kg for hours, depending on the speed setting.
30lb £169.99
40lb £179.99
55lb £199.99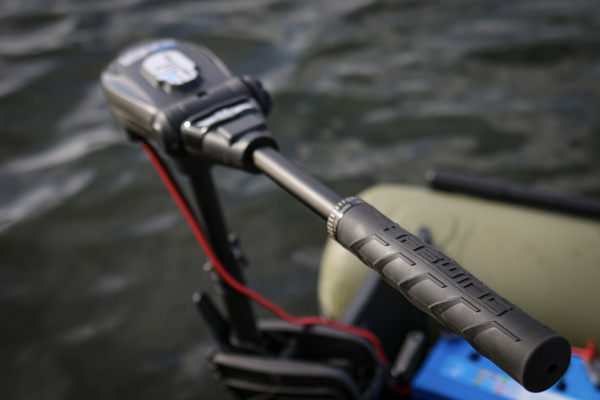 PROTRUAR
The Protruar models give the user more power and lighter, finer adjustment than others in the Haswing range, which makes them ideal for larger waters due to the power kept in reserve
The equivalent to a petrol outboard without the noise and regular servicing required, this outboard really harnesses the power and is comfortable running at lower speeds in tough conditions, always keeping a percentage in reserve to get you out of those tight spots on larger waters when the wind whips up from nowhere.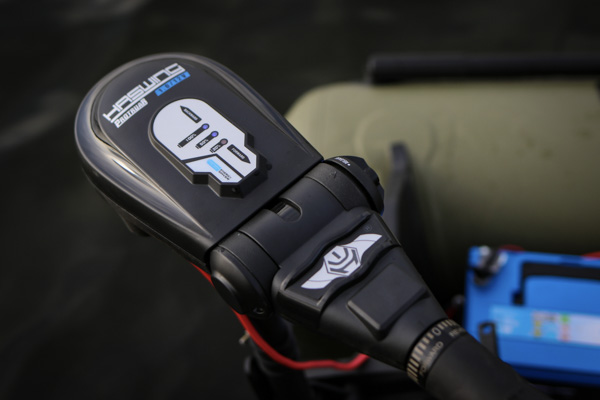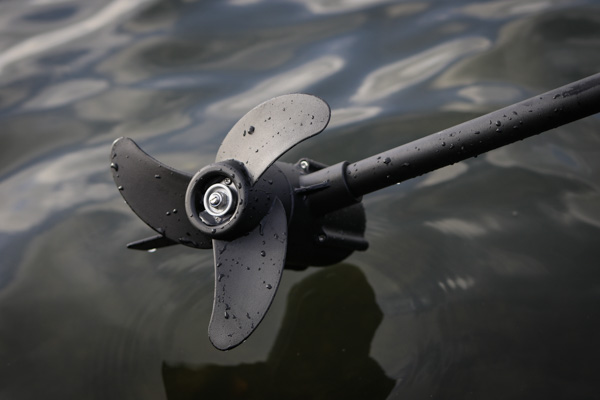 With the incorporated digital controller the power usage is maximised to given you extended run time and conserves battery life at whichever power setting you choose, which helps enable higher power conversion efficiency. It also helps to make the transition through the gears smooth both forward and reverse, and prevents false starting when first connect to the deep cycle leisure battery.
The handle swivels vertically through 180 degrees, folding for storage or transport in car boot. This model also has an electronic three-level battery level monitor and is available in 1hp and 2hp models.
This efficient workhorse is the one you can rely on in the most demanding of situations, and offers many features incorporated on motors with a much higher price tag.
1HP £285
2HP £310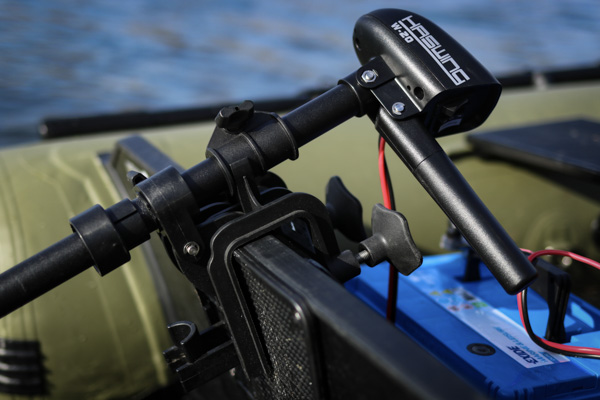 W-20
Lower powered for kayak and smaller inflatables, this is one of the lightest outboards in its class, weighing only 2.3kg and certainly a great motor from the tests. This will be a big advantage to lighten the load or to be used on those venues where you might need to travel some distance before the water is reached.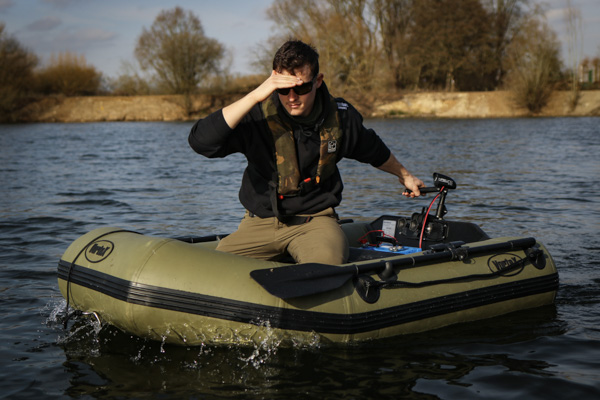 The aluminium shaft is one of the weight saving features of this little motor, which is capable of powering small inflatable crafts, kayaks and dinghies, ideal for those venues where you might need to sneak in and out undetected.
With a folding handle and maximum 20lb thrust, and which incidentally is run off a 12V deep cycle leisure battery, the motor incorporates a battery meter, two forward and two reverse gears.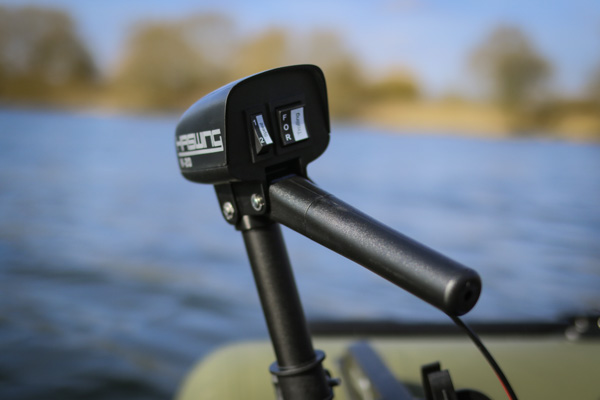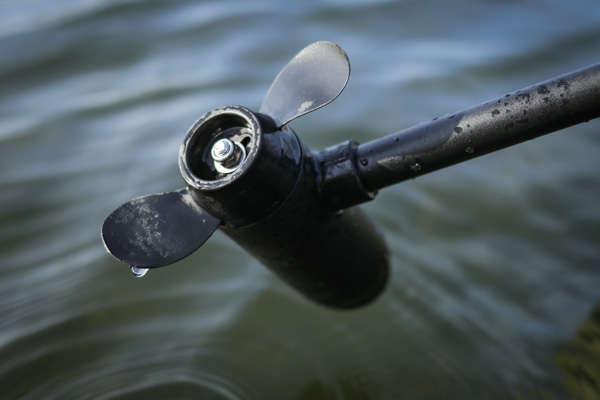 The height the motor is immersed is adjustable by a collar to use in all depths and water types. The built-in transom mount and clamp screws means it can be secured against any solid transom on many makes of boat. The smaller nature of this motor means it will move less weight but don't be fooled, for powering smaller craft you would still find the ample power needed with the lower thrust rate, to get to where you want to travel.
£74.99