ESSENTIALS | Night Fishing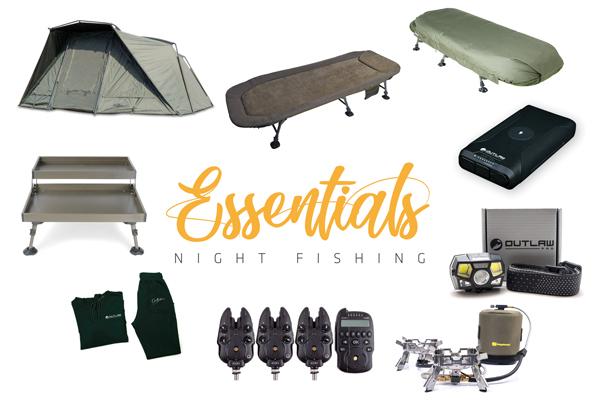 With the nights quickly drawing in, Outlaw Pro reveals its Essentials for fishing during the hours of darkness!
SHELTER: NASH TITAN T1 MKII
RRP: £649.99
Unless you're an ultra-hardcore (or mad) carper then you will more than likely need a shelter to protect you from the elements, especially while if you're out on the bank overnight! Whether it's protection from the morning dew, pouring rain or to keep chilly winds at bay, a bivvy is the most comprehensive shelter for us carpers.
The Titan T1 is a highly versatile bivvy that can be erected in a matter of seconds and offers unrivalled protection. Its versatility makes it suitable for short and long sessions alike, thanks to the flexible front design and removeable internal capsule. The frame design achieves a flat back to improve usable space, while the front ribs extend to form a peak, maximising coverage for storm protection, keeping you warm, dry and comfortable.
BED: SONIK AXS DURALLOY LEVELBED
RRP: £224.99
When it comes to sleeping in the outdoors, we carpers know how to do things in luxury! None of this sleeping on an inflatable mattress where you wake up in the morning to a deflated heap and a bad back!
Sonik's latest bed features the lay flat frame design we've come to love, providing a perfectly flat sleeping position. Combine this with the full lumbar support, plus the comfortable Cordurflex and Peachskin mattress, and you know you will wake up feeling refreshed!
Constructed on a Duralloy magnesium frame it is tough, yet incredibly lightweight and features the new 'Stance' frame design, which effectively positions the legs closer to the edges of the bed for improved support.
SLEEPING BAG: TRAKKER 365
RRP: £199
Sleeping in the heat of the summer often requires a token single leg under the cover, but as we move into autumn the night time temperatures will drop significantly and a full sleeping bag will be in order to stave off the chills.
The Trakker 365 is a comprehensive bag designed for all year round use and features a fully removeable and reversible zip-in winter lining taking the outer bag from a 3-season to a 5-season rating. The main bag features a smooth polyester lining, suitable for spring, summer and autumn use, while the removeable inner has smooth polyester side and fleece side to suit your preferences. Heavy-duty 10mm quick-release zips allow for a swift exit should you need to quickly leave the bag to attend to a bite, and these feature internal and external baffles running the complete length of each zip to reduce heat loss and stop cold air ingress!
POWER PACK: OUTLAW PRO PRO-PAC
RRP: £179.99
All those electricals will use some juice, so you need to be able to charge them up while you're on the bank. Thankfully Outlaw Pro has just the ticket, with its newly released Pro-Pac!
The Pro-Pac has been developed alongside one of the largest outdoor power solution specialists in the world to craft and refine a power bank solution dedicated to carp anglers! With a 72,000mAh capacity, you can be certain that it will keep all of your electricals full of beans throughout your session. With outputs and features such as USB-A, USB-C, DC and wireless charging, you can be sure that any device will be well covered!
HEADTORCH: OUTLAW PRO HEAD TORCH
RRP: £19.95
The problem with fishing at night is that unlike cats, we can't really see too well in the dark! As such, some form of lighting is going to be an absolute essential for any kind of detailed task. Outlaw Pro's head torch is ideal for fishing, hiking and camping thanks to its IP45 waterproof rating, and offers five light modes and a peak light intensity of 600 lumens. It can run for four hours on the highest setting, or six hours of the low and medium settings. The great thing is that it can be charged on the bank using a power pack, so you can be sure never to be left in the dark.
Another useful feature is the waving sensor control which means you can activate the light by waving your hand in front of the headtorch. This ensures you aren't left searching for the button while scrambling for a take!
COOKER: RIDGEMONKEY QUAD STOVE MINI – FULL KIT
RRP: £99.99
Is there anything finer than the smell of bacon and eggs frying first thing in the morning with a big steaming mug of tea to go with it (especially after landing that special carp in the night)! Even the conventional Pot Noodle requires a stove to heat up your water!
Over recent years, RidgeMonkey has elevated our bankside culinary skills and its latest Quad stoves connect together to create two independently controllable stoves from a single gas supply! This opens up a whole range of new cooking opportunities, not least simultaneously boiling the kettle for the brew while the bacon's on the go – SERIOUS EDGE! The quadrilateral design is optimised for use with RidgeMonkey toaster while the incredibly low centre of gravity and four height-adjustable folding legs ensure maximum stability. Also features an all-new gas condenser pipe to ensure efficient fuel burn even in the coldest conditions.
TOASTIE MAKER: RIDGEMONKEY CONNECT TOASTERS
RRP: From £22.99
RidgeMonkey revolutionised cooking on the bank with its toastie makers and now has a whole range of various pans to suit any meal you could want to cook! The Connect Compact XL Toaster is our go-to, featuring a unique detachable hinge system that allows the pans to be used independently if required, one-touch removable handles and a fluoropolymer non-stick coating. The XL size is also that bit more versatile, allowing you to cook two toasties at once, as well as a huge range of other meals!
BITE ALARMS: WOLF QI ALARM AND HUBB RECEIVER SET
RRP: From £599
Intensely staring at a piece of silver paper rolled over the line or listening out for a churning reel is not the ideal way to spend a night on the bank. Thankfully, bite alarms were invented to alert us to a take and these have since come on leaps and bounds, offering a mind bending list of features we couldn't even comprehend just a few years ago!
One of the latest offerings in the line of bite indication, is from the team at Wolf in their ICONS range, and the Qi alarm and HUBB receiver are at the proverbial top of the bite alarm tree. These combine roller wheel and vibration sensing, alongside a whole host of other useful features in a robust weatherproofed package. The HUBB then offers control and connectivity never seen before. Used and abused by Total Carp's editor, make sure to check out his full review in the gear section!
COMFORTABLE CLOTHING: OUTLAW PRO BLACK TRACKSUIT
RRP: £34.95 – £38.95
Heavy duty waterproofs can be a necessity when the weather sets in, but once huddled up in the comforts of your bivvy and sleeping bag, you really want something comfortable to wear! So, make sure to either wear, or at least pack a set of comfies in the form of your softest tracksuit! Outlaw Pro has its own offering that is not only ultra-comfortable and warm, but also looks the part too!
Finished in black, the hoodie trouser combo features a luxurious thermal fleece lining and white Outlaw Pro branding.
BIVVY TABLE: AVID DOUBLE DECKER BIVVY TABLE
RRP: £79.99
Fumbling around in the dark looking for your kit is never ideal, especially when you need to get a rod back out following a capture in the middle of the night! Make sure you're an efficient angler by organising all your kit for the night on a bivvy table.
The Avid Double decker bivvy table offers two tiers of space for organising your kit, meaning you can separate your personal possessions from the terminal tackle, bait and rigs you may need for the night ahead. The organiser features fully adjustable, folding legs, allowing you to get a perfectly flat table arrangement for maximum efficiency while you are bankside. Furthermore, the hinged upper-tier easily folds flat for minimum pack downsize when in transit.