DELKIM | NiteLite Indication Set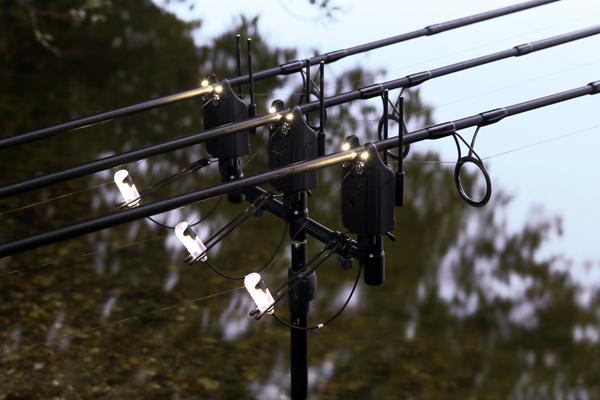 Those of you with good memories may recall the NiteLite Pro and the SlimLite Indication Sets that were huge successes from the brand. Well the NiteLite Indication set has utilised the proven functions of these and now added the addition of more weights, making this quite possibly the most versatile indicator on the market, regardless of weather conditions!
So what exactly do you get? The set features the NiteLite v.2 Illuminating Hanger, SlimCarb Carbon Stabiliser and C-Slot drag weights. As the name suggests, this is a completely illuminated hanger that attaches to your Delkim via the supplied wires and will mirror its LED functions including flashing, latching, brightness adjustment and night marking. What's more, no additional batteries are required at all!
The same wires that attach the hanger to the alarm perform in the same way a chain would with the unique patented CatFlex2 cable assembly, which is further protected in a thin black stainless steel coil.
The hanger head features a patented self-adjusting integral magnetic line clip that harmlessly holds your line in place, making all old-style adjustable types a thing of the past!
What we like is the amount of uses catered for in one system – the NiteLite V.2 Illuminating hanger can be used free hanging as standard bobbin, which can be utilised on slack, semi and tight lines, but when used in conjunction with the Tilt 'N' Slide SlimCarb Carbon Stabiliser the same bobbin can be used in even the most savage of winds, while ensuring your indication does not falter.
Available in six colours to suit the range of Delkim Alarms available, we are certain we will be seeing plenty of these on the banks, lighting the way and for those of you with a keen eye for photography in arty night shots too!
As we have come to expect from the incredibly talented, ingenious minds at Delkim, all the products are made right here in the UK, and this set is not only reliable in all weather conditions but is compatible with EV Plus Delkims, 25 Plus, Standard Plus, TX-i Plus and the newest Delkim alarm, the Txi-D.
RRP: £37.99
WEBSITE: www.delkim.co.uk