CARP SPIRIT | Sleeping Bags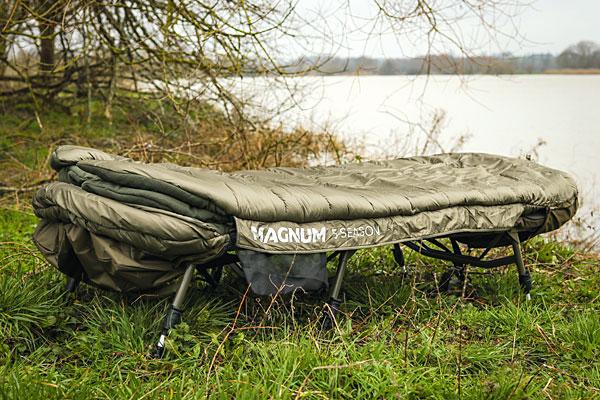 New for 2020 are a whole host of new and exciting products coming from the Carp Spirit stable and among them are these three new sleeping bags, a bag to suit every angler!
The first and most affordable is the BLAX 3 Season Sleeping Bag, and retailing at £69.99 this bag will cover much of your fishing in the spring, summer and autumn months. The benefit of using a three-season bag as opposed to a four or five is that the sleeping bag itself weighs considerably less.
This bag follows that rule yet still retains exceptional insulation, and if for any reason the nights may be colder (this bag has a 0ºC minimum temperature rating) than usual then a thermal bed cover will eradicate any chill. By using Carp Spirit's very own Magnum Thermal Bed Cover the BLAX 3 Season Sleeping Bag would be upgraded similar to that of a four-season sleep system.
Attaching the bag to a bedchair is done with ease thanks to the oversized head overlap that secures the top end nicely while the bottom end has a drawcord base. For extra security Carp Spirit has utilised Velcro to allow for further attachment to multiple points around the bed.
The Magnum 4 Season Sleeping Bag is available in two different sizes; the standard measures in at 220cm long (as does the BLAX 3 Season bag) and is 95cm wide while the XL version measures 10cm longer and extra 20cm wider. A minimum temperature rating of minus 10ºC has been given to both sizes and will cost £109.99 for the Standard size and £119.99 for XL.
The 3 Season bag is water resistant whereas the Magnum 4 season has a ripstop and waterproof outer, but it is inside where the magic happens. A micro fleece upper has been used to warm the head and body and the lower half features a smooth polyester. Much like the first bag this also features 10mm heavy-duty crash zips, oversized zip baffles as well as large neck baffles too.
If fishing all year round is your thing then maybe consider investing in the Magnum 5 Season Sleeping Bag. What differentiates this bag from the two others in the range is the fully detachable centre layer. This allows for supreme temperature control for the angler, who is able to easily remove or replace it depending on the conditions.
Retailing at £159.99 for the Standard and £169.99 for the XL the Magnum 5 Season Sleeping Bag is well worth the cost, as not only is it extremely durable but it also has been given a minimum temperature rating of minus 20ºC.
RRP: £VARIOUS
WEBSITE: www.carpspirit.com