CARP SPIRIT | HD3 Alarms & HDR3 Receiver (Video)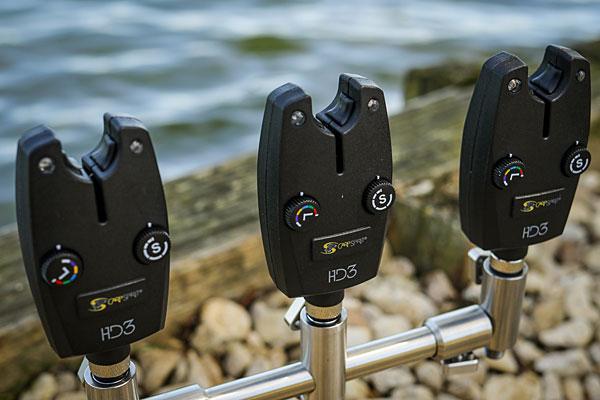 Every now and then a piece of tackle manages to firmly stop us in our tracks to take a much longer and harder look at what is on offer. While the concept of the Carp Spirit HD3 Alarms is not completely new to the industry, these particular additions are such fantastic value, especially considering how little cash is needed to own a set.
Carp Spirit has identified that very few of us want to hear the shrill tone of a bite alarm from a neighbouring angler when receiving a bite or from setting their alarms, thereby interrupting the peace and serenity we all search for in our angling. The HD3 contains a vast array of features and yet is recognised as the most compact bite alarm the company has produced thus far. Eliminating the front speaker that many competing bite alarms make use of has helped enormously with this, leaving the HDR3 Receiver (with a 100 to 150m range) to take care of the task of audibly notifying the angler of any fishy activity.
Rather than purchase different coloured alarms for your setup, Carp Spirit has implemented a dial on the front of the head whereby six different colour options can be chosen from one session to the next. On the opposite side is the micro sensitivity adjustment wheel, most essential in changeable weather conditions, and sitting in the middle of the alarm are two soft rubber inserts. These help to ensure your precious rods do not enter the drink even when the most ferocious of takes are experienced.
Interestingly the receiver can also be customised in terms of the colour of the ultra-bright latching LEDs illuminating when a bite is received. On the head of the receiver is where you will find the tone and volume controls, as well as the power switch located at the top with a choice to use the vibration function also. A table support has also been included proving to be very useful when sitting or sleeping under the safety of the shelter.
There are a number of options as to how the alarms and receiver can be purchased. One single HD3 alarm without the receiver can be obtained should a receiver and matching alarms already be in the armoury and programming to an existing receiver is easily achieved. If this does not apply, two, three or four alarms complete with a receiver are readily available from the Carp Spirit website and fear not, you will receive no interference from fellow HD3 users either as their rolling code feature prevents this from ever happening.
RRP: £24.99 (single alarm); £109.99 (3+1 set)
WEBSITE: www.carpspirit.com
To find out more about Carp Spirit's compact HD3 alarms, watch the video below.