Boost your baits with the CC Moore Booster powders! (Video)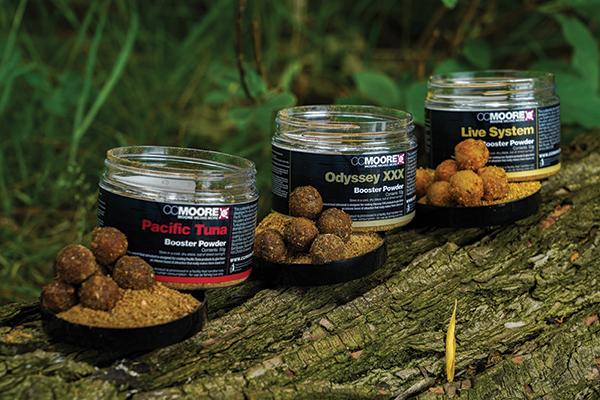 There are now so many ways to boost the attraction of your baits, where anglers can soak their hook baits or free offerings in a hugely diverse selection of liquids and powders. It is often the case however, that once submerged in water much of the flavours added on to or soaked into the bait will soon leave after a short period. What CC Moore has been able to achieve is to allow the angler to fish with a bait that will constantly leak fresh attraction until devoured by hungry carp. The new product in question is the Booster Powders, which are available in the super-effective Live System, Pacific Tuna and Odyssey XXX flavours, therefore complementing their respective range of existing products.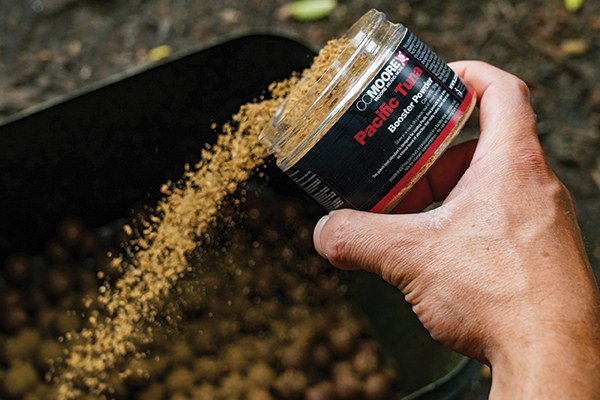 With each new Booster Powder you are able to create an irresistible skin around each single bait that will gradually dissolve over time, helping to pull fish down to where your baited rig will be sitting. This can be achieved with loose feed and hook baits by simply pouring a liquid such as the matching bait booster liquid or Amino Blend 365, both of which are a sticky water-based liquid. The powder can then be sprinkled over your baits and then rolled around inside a bucket or bowl until every bait is covered. It is then down to the angler to how many times they wish to repeat this process as there are only benefits to these thicker skins moulded around every bait, especially when fishing long sessions.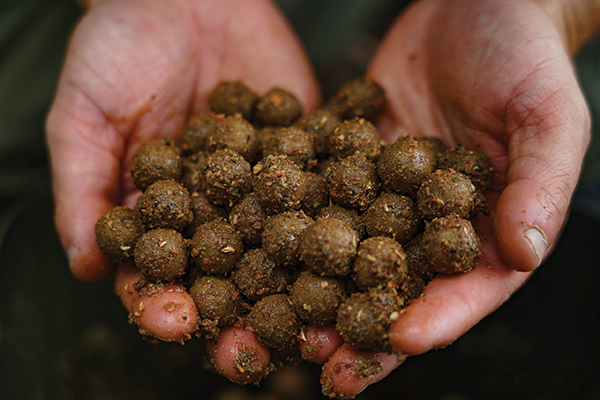 When left to dry a little the skin becomes crusty, yet the thickness of skin that is created will dissolve in any water temperature so this is the perfect tactic to use all year round. Other than increasing the attractiveness of your free bait, the use of adding this special product to your hookbaits serves as an effective single hook bait fishing method.
The use of any of the Booster Powders is highly recommended inside PVA bags for further enhanced attraction.
CC Moore Booster Powders
• Available in Live System, Odyssey XXX and Pacific Tuna
• Cannot be overused
• Adds a highly attractive skin to every bait
• Very water soluble
• Excellent inside PVA bags
• Creates multiple layers for effective pulling power

RRP - £3.99
Website - www.ccmoore.com