Big-Carp Breakthroughs inside our September issue plus a FREE Dynamite & Carp Spirit Bait & Rod Guide!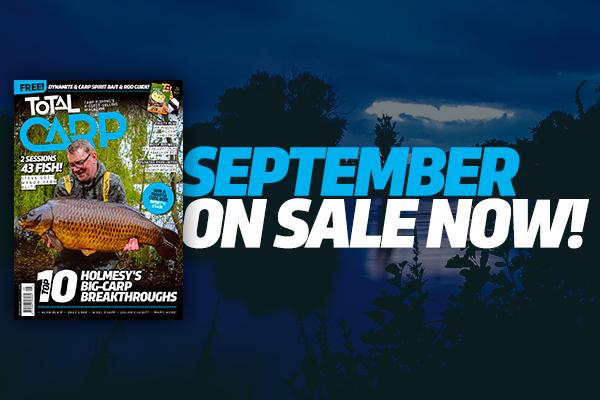 September has always been considered something of a 'big-carp' month – a big reason why it's one of Laney's favourites as he explains in his latest instalment of '12 Months of Carp Fishing'.
We keep the big-carp theme running with Ian Russell's big-fish Challenge and cover-star Mark Holmes revealing his top ten Eureka moments for targeting big'uns!

There's more big-carp action with Luke Stevenson highlighting the almost forgotten art of chod fishing, Steve Coe smashing it up on Linear and catching the big girls from Manor and even Alan Blair's been in on the big-carp act, banking an incredible looking upper thirty mirror during his latest Road Trip.

Ironically, in his latest big-carp mindset, Nigel Sharp steps away from the big-carp slog, and instead reveals some really quite interesting findings where he applies his big-fish approach to more heavily-stocked waters. Whether it's his findings on pop-up choice or pitting his favoured hinged stiff rig against the popular Ronnie, the results are well worth the investigation, and certainly worth a read!
We also feature Luke Vallory as he continues his quest for a day-ticket 40, Adam Penning looks back on one of his successes while surface fishing and Ian Chillcott gets down to some riggy business (or not!).

There's another packed gear section as we give the lowdown on tonnes of new kit – you can even win some of it so keep your eyes peeled for those WIN flashes…

Speaking of which, there's also the chance to win a cordless cooler/warmer box from Makita – worth £549!

As if all this wasn't enough, those lovely folk at Dynamite and Carp Spirit have dropped a FREE 40-page pocket-sized bait and rod guide into every magazine!

Enjoy this month's magazine and if you have any success on the bank this month then please let us know by submitting your catches to Carp Scene – you might even see yourself in a future issue!

WHAT'S HOT
ROAD TRIP
It's soon to be show season and Alan's latest road trip sees him rushing around trying to finalise shots for the latest Nash Brochure. Amongst a plethora of lifestyle shots required of their latest developments, one shot required was Alan landing a 'BIG CARP' from the boat – it was no small feat, but it's safe to say the 'shot list' was completed in fine style! Head to page 86 to check it out!
NODS OR GODS!
Learn the forgotten art of chod fishing with Luke Stevenson's guidance on page 24. It's a simple, stealthy and ever so effective tactic that has helped Luke put numerous big carp on the bank over the years! Once all the rage, this tactic has since been superseded by the popular Ronnie, but could Chods have their moment in the spotlight once more?
LET'S GET RIGGY
Not one to follow the latest crazes, Ian Chillcott talks frankly about rigs. Rigs should be there to catch the fish, not the angler, and Chilly prefers to put his faith in simple rig mechanics and years of experience. If you struggle with the mind-boggling world of rigs, this refreshing viewpoint on page 62 could be just the remedy.