BANKSIDE CUISINE | Creamy Mushrooms with Bacon and Toast Soldiers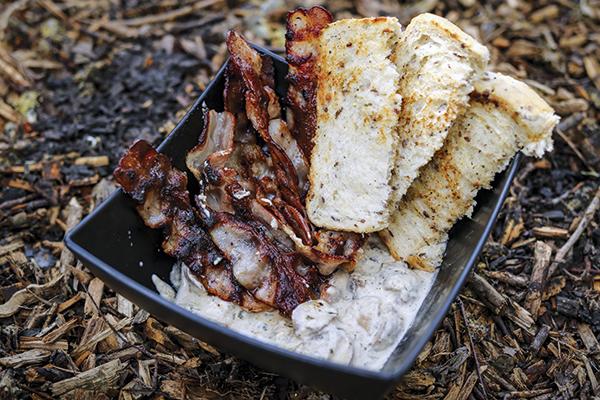 Mushrooms for breakfast – a classic sign of success in the Colne Valley where a successful captor will be eating his mushrooms when they get their café breaky! For those fancying an alternative to the classic full English, these creamy, garlicky mushrooms will hit the spot. Toast soldiers are perfect for dipping, while the streaky bacon adds some crunch and that signature breakfast taste!
Serves: One
Difficulty Rating: 4/10
You'll need: RidgeMonkey toaster and deep-sided saucepan
Ingredients:
• Sliced mushrooms – you will need a fair amount as these reduce right down
• Streaky bacon
• Dollop of crème fraiche
• Two slices of bread
• Garlic powder
• Salt and pepper
• Chopped parsley
Home prep: If you buy whole mushrooms, you can slice them up a day or two in advance.
Method:
1. Everything you'll need.
2. Fry your toast off in a Ridgemonkey.