9 Top Tips For Seamless Night Fishing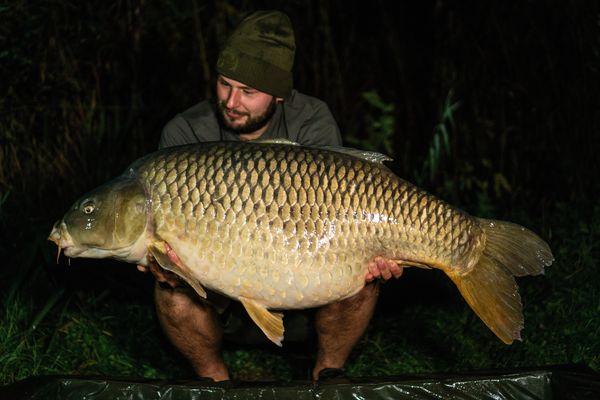 1. ACCURACY AT NIGHT
If possible, find your spots in the daylight hours and pick yourself a prominent horizon marker on the skyline to help you during the hours of darkness. To help ensure you get the rod out to the same area, make sure you use a set of wrap sticks; wrap up to find exactly how far out your spot is, then all you need to do at night is clip up to this distance and cast towards your horizon marker to ensure pinpoint accuracy. This will also mean you won't need to have lots of casts in the dark looking for the area again.
Have a note pad or use notes on your phone and write down the positions of all of your spots so the next time you are at this swim you will know the areas without having to use a marker rod or a leading rod disturbing the area – even turning up after dark you can get the rods straight out on to the spot.
When you get that all-important bite you may have a group of fish feeding and want to capitalise while they are in the area; getting the rod out in super-quick time even while you have a fish in the net can mean you can end up with more than one fish to photograph.
2. RIG PREPARATION
Being prepared with rigs can mean you can get the rod back out as quickly as possible once you have had a bite. On certain days and venues more than likely a certain tactic or rig will unlock the results.
Once you find what is working, always ensure you are fully prepared for the night ahead with at least a spare rig or two to recast each rod. I generally have a box full of rigs to suit every situation; bottom bait rigs, pop-up rigs such as spinner rigs and hinge stiff rigs, zigs and my favourite solid bag rigs. For my trips I always like to have a few solids tied just in case I see a fish show as it's a great way to nick a bite. Also a zig rig in the spring can be a deadly tactic as the fish are enjoying the warmer upper layers so make sure you have them with you.
Rigs are something I love experimenting with and that's what lead me to the slip-D rotator. I can assure you this is a rig I take everywhere with full confidence; I've caught home and abroad with fish to 78lb plus, so this is my go-to rig for pop-ups, wafters and solid bag work when tied with a soft boom. It covers pretty much all eventualities, so I make sure to have plenty tied up for the night ahead.
I even like to get them all with the hook baits on ready and waiting. It's then simply a case of unclipping the old rig with the fish in the net, before wrapping back up, clipping on the new rig and getting the rod back on the spot.
3. BAIT PREPARATION
Being prepared with bait is very similar to your rigs. I like to have all my bait prepared the day before my session and work out the bait I will need for the venue I'm fishing. My mix doesn't change too much with the main stable being Mainline Cell boilies boosted with Smart Liquid, corn and additional pellets in the summer months or maggots in the colder months.
If I'm using solid bags or mesh PVA bags on a venue I like to have many tied up ready for the night ahead so I'm not having to tie up bags during the night, to save time getting the rods back out.
4. FISH SAFETY
Ensure you have all your carp care items such as sling, unhooking mat, Pro-Care and scales (even tripod in position if you are doing self-takes) all at the ready and in an organised fashion to make sure you can deal with the carp safely during the dark hours.
My first job after landing a carp is to secure the fish, unclip the rig and get it cast straight back to the spot. If you need a moment to gather yourself, do so, then progress with dealing with the carp. By setting up the mat and fish-care kit in the daylight hours, it's easy to make sure it's all on level ground so that you don't have any mishaps in the night.
Fish care is absolutely paramount and should be the number one thing on your mind day or night. Always carry a carp care treatment with you and please use it as it means they return to their homes healthy and continue to make us all very happy.
5. CLOTHING
The weather can change at the drop of a hat, particularly at night, so make sure you have all temperatures covered. I take a shroud with me at all times for the bedchair and keep it in the van for a bit of additional warmth.
A hot water bottle can be a real edge for keeping the cold off when in your bed. A change of clothes is also a must in case I get wet or I can use them as an extra layer in cases when temperatures drop dramatically. It doesn't hurt to carry an extra hoody, a set of thermal layers, a beanie hat or additional pair of socks. I have been caught out in the past where I've had a fish in the night and got soaked, but I won't again as I always have spares to hand.
Once cold you will be uncomfortable, won't fish effectively and may well end up packing up and going home.
6. FOOD
Eat well, fish well, during all times of the year! I make sure I have a substantial meal especially before I go to bed while fishing. A good hearty meal can get your through the coldest of nights, especially the long dark winter nights.
Food can also be the centrepiece for a summer social with mates and I love to cook on the bank at all times of the year. Just because we are fishing we don't need to be roughing it.
7. LIGHTING
Bivvy lights and headtorches are an essential pair of items I just couldn't night fish without. The bivvy lite is great for cooking or being able to tie fresh rigs inside the bivvy at night and also if you're having a social with friends you can dim the light so that you can still see everyone, but no one is shining bright headtorches in each other's faces! Of course a head torch is key for tasks out of the bivvy such as playing a fish during the night.
Another big factor for me is night-time photography. Getting good night-time photos all comes down to being prepared. Just like your carp care kit, be confident, expect a bite and set your bank stick adapters up so the bivvy lites are in the right position to light up the scene for photography.
We don't need to be sacking fish up until the sun rises, you see so many great night shots and it's easy to do so with the right kit. Find a nice flat area have everything to hand, set it all up in the day and your night-time photography area will be ready.
8. POWER
Another item I just can't do without when I'm fishing – not just nights but every time I go – is a power pack, which means I can work from the bank and means I never have to worry about my devices and laptop running out of power. I can also top up the headtorch and bivvy lite should they need it during my stay.
Having portable power is an absolute blessing – we have all been there and had a dead battery on your phone or headtorch and you usually realise when you need them most, but that hasn't happened to me in a long while as I always have my Vault Power Pack to hand. I ensure I charge my phone and headtorch during the day so that I'm never caught short. Keep them to hand on my bivvy table ready to grab the headtorch if the receiver alerts me I have a bite during the night.
9. BIVVY TABLE
A bivvy table is a key item I use during the night, keeping all my essential items in one place, not having to scamper around looking for my headtorch when I get a take or looking for some scissors or rig materials when I need them.
I like to keep my headtorch, receiver, rigs and bait for the night ahead all organised beside me so I know where it all is at a moment's notice. Being organised over the years has certainly helped me catch more fish at night and I hope these tips can help you have seamless nights of carp catching action!