TROUBLESHOOTER | Willow Park Fishery with Ian Russell and Warren Moroney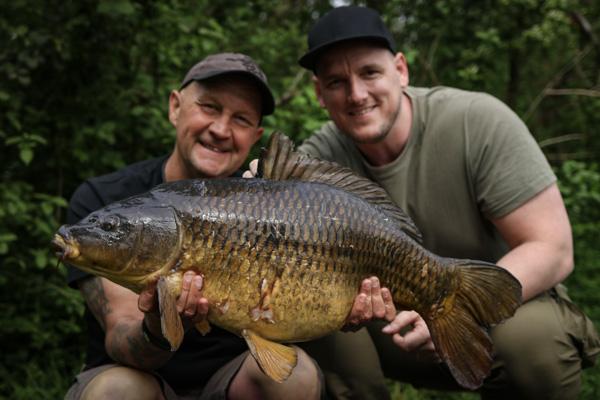 IR: In this month's Troubleshooter we've headed out on a 24-hour session with London cabbie Warren, who had got in touch to get the most out of day-ticket carping… and I had just the water in mind – Willow Park.
WM: "I'm fairly new to carp fishing and have been really enjoying the sport for around four years now, and in that time I've taught myself a lot and have had some great results, but there is always more to learn.
"I've fished my local park lake on and off and most recently I've been fishing my syndicate that I joined this season, where I'm doing quite well so far. However, I would say my main struggle is how to approach day-ticket waters. I've really struggled to catch on day tickets and find it quiet hard going. I just can't get my head around them and end up walking away a bit disheartened and just sticking to my syndicate that I know a lot more. With various great ticket waters on my doorstep this is something I'd really like to improve."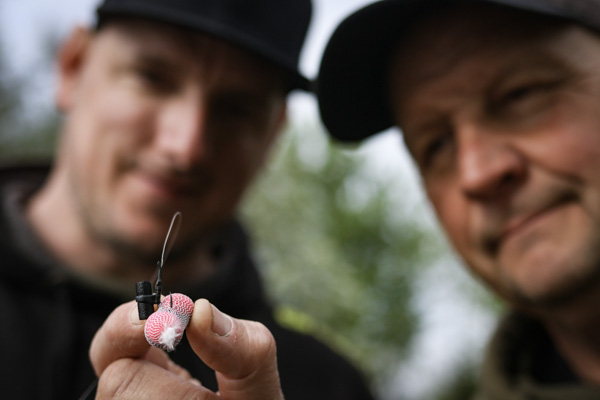 IR: We got to Willow on the gate for opening at 7am, and popped into the cafe for a quick cup of tea and a bacon sarnie with Terry the fishery manager, before heading off for a walk around the lake. We chose to go for a swim called the Pig Pen, which is a great big double swim with a willow tree between us. We hadn't seen a lot but the swim gives access to the main body of water, which is always a good bet when you aren't seeing them.
On top of this, Warren also wanted to go over zig fishing, which Willow is renowned for, so this area of open water with its slightly deeper water is the area you'd usually be aiming at on here.
We set everything up on zigs, fishing our six rods between 15 and 20 wraps staggered across the lake and all at slightly different depths. We sat back for an hour or so twiddling our thumbs because usually you'd have had bites by that point if they were on it!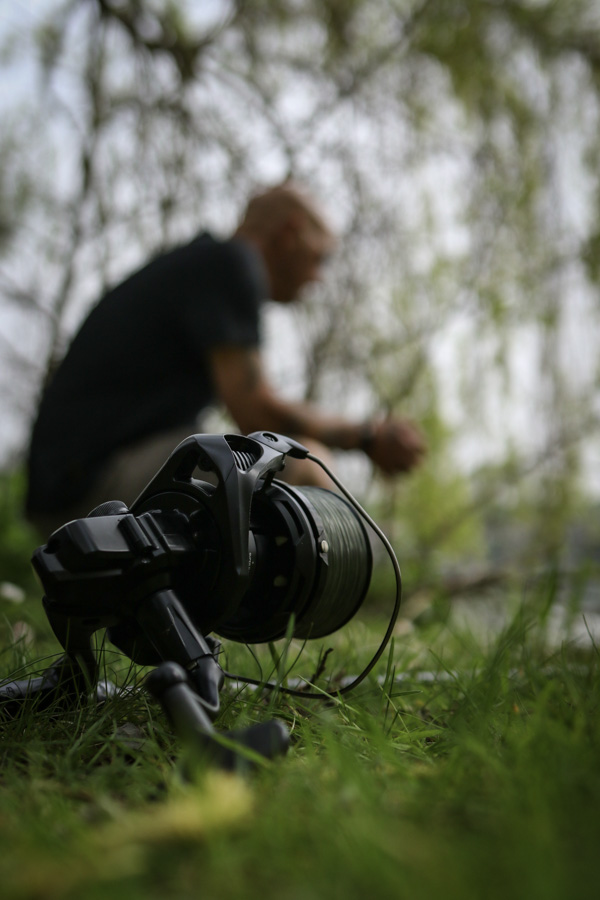 What I did notice on our little walk around was a great big shoal of bream about 60 yards down the bank, which were at it spawning. They were literally tossing each other against the bank in the throes of passion, so we wound the rods in to head down and see what was happening.
No, I'm not into some kind of fish fetish – I knew full well that the carp would be on it in no time as they go absolutely bonkers for bream spawn! Sure enough there were a load of carp cruising up and down the margins scoffing the eggs.
With carp now feeding in the edge, we grabbed a rod each and wandered down the bank before lowering little stiff hinge rigs literally a foot from the bank among the feeding carp. They really didn't seem to bothered by our presence and happily fed away while we watched with our hearts in our mouths! If I had hair, I would have been pulling it out, because the fish kept coming so close but then not actually taking the hook baits, being so preoccupied on the spawn.
Finally one made the mistake and editor Matt alerted me to the fact that a decent common was sat sucking and blowing my little yellow pop-up, which was attached to its bottom lip – we were in!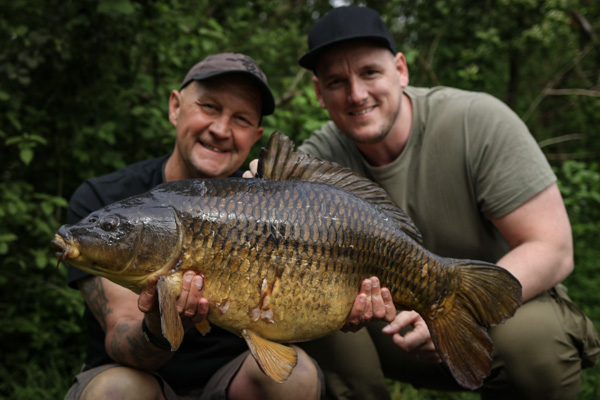 Playing it as tentatively as I could, the carp waddled around the margins among a sea of flapping bream and inquisitive carp, before finally rolling into the net. This turned out to be a chunky 22lb common and a great start to the session. The next few hours were then spent darting between the main swim and this bank, where Warren managed to hook one while freelining, but unfortunately it came adrift.
WM: "That was some really exciting fishing, being able to watch the fish at close quarters and I was actually really surprised that the stiff hinge rig would work in the margins. I guess as Ian said, if it works in the same depth of water out in the pond, why wouldn't it work in the margins too!
"I do love this sort of fishing and it's actually what I tend to do most of all, where I typically fish short stalking sessions over on my syndicate."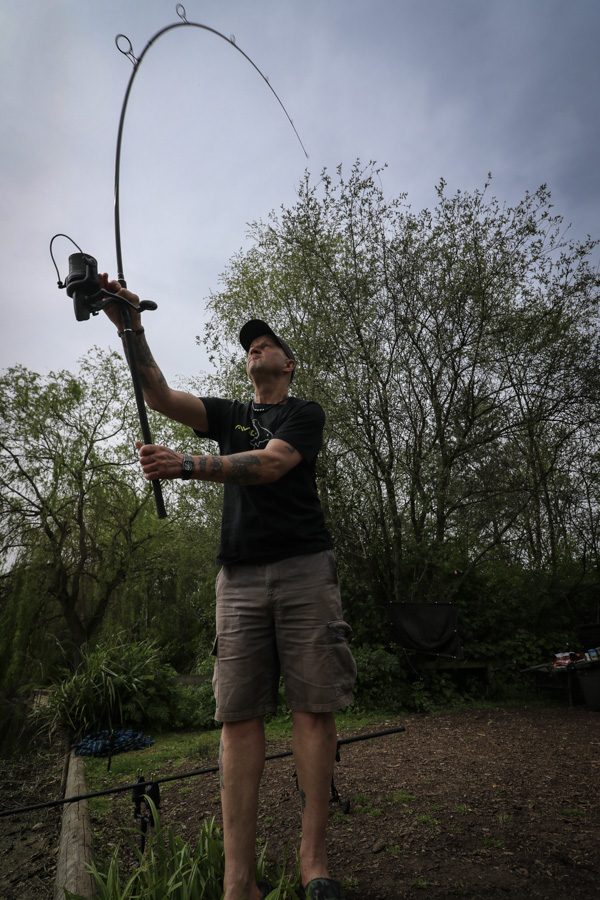 IR: Once back in the main swim we carried on chopping and changing with the zigs to no avail, so while Warren had initially wanted to go over zig tactics, we needed to use what would catch us fish – this is what angling is about, and it's all the more important on these pressured day-ticket lakes!
With that in mind we chopped them off completely and swapped over to little stiff hinges. I'd had a trip here a few weeks prior and these very short, very low stiff hinge rigs with yellow pop-ups were what was doing the business over a few Spombfuls of corn.
Having seen a few fish showing out in the central zone I found a nice area of open water at 15 to 18 wraps, while Warren decided to fish a little shorter at 13 wraps on a hard area in front of his swim.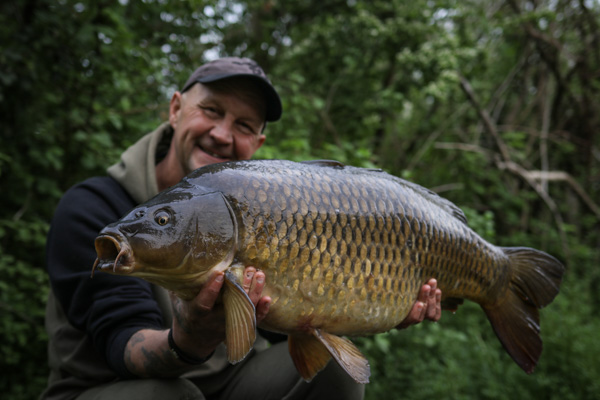 I was gagging to get Warren a fish, but unfortunately it was my rods that kept rattling off! I had a mid double common in the night, followed by a beautiful big original common of 26lb early in the morning – it fought like an absolute demon too! This was then followed by a little fully scaled on the same rod and a final little mirror on the right-hand rod just off the area.
Nonetheless, Warren was still confident and determined to catch off his own back so fair play to him! Fish were still showing across the area, but they were mostly further out from where he had been fishing so, wanting to make something happen, Warren recast his rigs another 20 or so yards further out to ensure he was on the fish, followed with a few more Spombs of corn. Sure enough, not long after moving spots, one of his rods was finally away!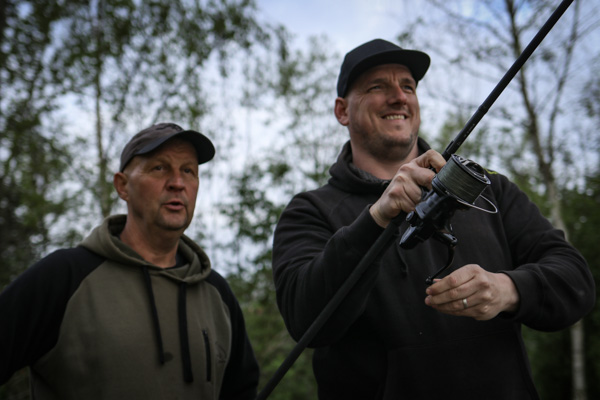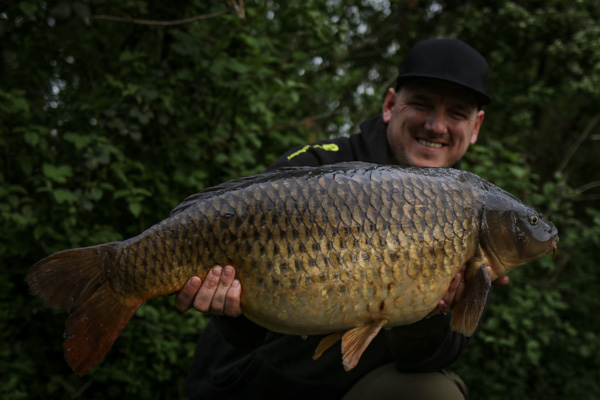 WM: "I was determined to catch one, so it was such a relief when the bobbin on the middle rod dropped to the deck signalling a proper drop-back take. I couldn't believe how hard the fish fought and I was really feeling the pressure to land it both for myself and for the cameras!
"It came close a couple of times before powering back off into the lake, but eventually it went in the net. It was a lovely plump bronze common too at 22lb 12oz! This one fell to a little Elliott Gray rig with a yellow pop-up that I decided to try out, so it's safe to say I now have plenty of confidence in that rig!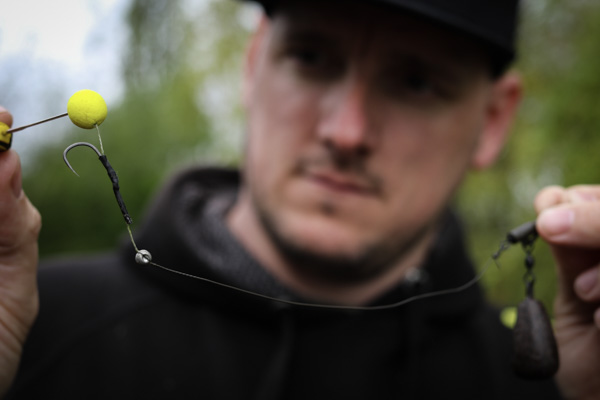 "Watching how much Ian was chopping and changing was really interesting to see. I would have normally left my rigs out in place for a lot longer and if nothing had happened that would have just been the end of that, but Ian is constantly ringing the changes.
"Zigs are something I've wanted to try for a long time but I've never had faith in them, so its good to see that my zigging setup was okay, It's just a shame we didn't get one on them on this occasion to really nail it home.
"What I have learnt with zig fishing though, is that you have to be really active. In the past I would have just chucked them out, but once again it's very much a case of changing them, altering the depths or colour until you find what works, so it's definitely something I will be giving a proper go in sessions to come. When you can see them cruising around and they're clearly not on the bottom you just have to fish where they are!"
IR: So that brings me to the end of my trip with Warren the cabbie and as always we've had an absolute blast, each having successfully bagged fish over 20lb! While I have to go, Warren's decided to stay on for a little longer and so I wish him the best of luck in my absence!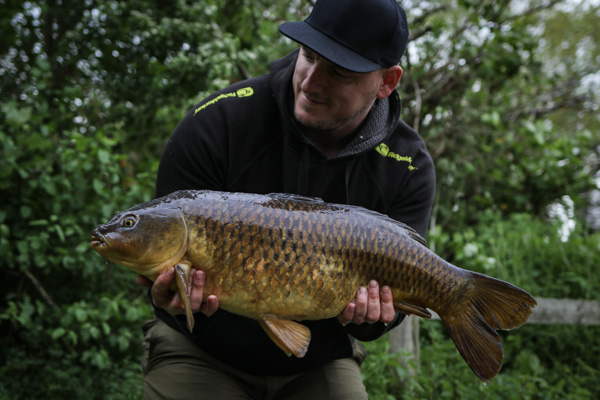 WM: "Well the weather looked spot on for fishing and with it being a little cooler I had hoped the fish would be more inclined to feed out in the pond and this proved to be the case as I managed another mid-double common shortly after Ian left. In fact I actually had a double take, with a bite on the zig rod too, but by the time I landed this one there was nothing on the end!
"I had a great time with Ian and certainly feel a lot more confident in my approach to day-ticket waters. I'll also certainly be back to Willow to have another crack at it in the summer! I'll keep you guys posted…"