ROAD TRIP | Alan Blair heads to Thailand!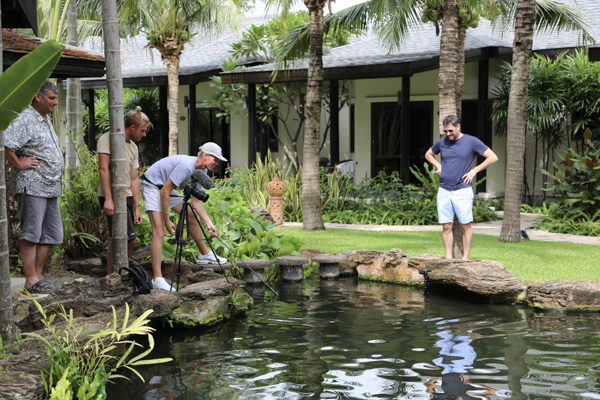 Thailand… where do I start? It's never really been on my bucket list, not like Bled, not like Cassien, not like Skadar… Balaton, the lot. I don't think that's for carp reasons, because I really want to catch other species like GT… sharks… tuna. It's just so far down that list, and I'm not entirely sure why that is.
When I think of Thailand I think of backpacking and tourism. It's never been a country that I have associated with angling. To catch cod you go to Norway, trout to New Zealand, carp to Belgium and England, but Thailand? Full moon parties!
So this unlikely trip actually came about when the one and only Martin Bowler got in touch. The opening email read: "Would you like to come fishing with me?"
Damn right I would! I massively look up to Martin. He is one of our country's most successful anglers and catches fish of all species right across the seasons; there is no idle talk – he is out there doing it! Would I like to go fishing? Hell yeah!
That then led on to "In Thailand?" to which I replied: "Not really Martin!" I was frank with him – being on incredibly limited time I get two maybe three weeks of fishing like this where I can go for a block of time, and I don't really want to sacrifice one of those to go to Thailand. We spoke a bit more and I really thought about it. You shouldn't judge a book by its cover and Martin was very persuasive. He hadn't wanted to go on his first trip but he had really loved it… so I signed on the dotted line!
That was about a year ago. A few weeks ago it crept up on me and suddenly I had to go to Thailand! Right up to the final hours I really wasn't looking forward to it. Not like I look forward to Eurobanx!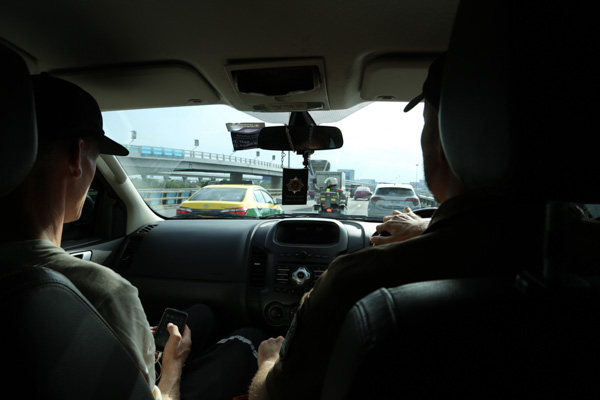 So we met at Heathrow, and I think it was the first long haul flight I can remember where I haven't dozed off before take-off – Martin was so full of stories and fishy tales I actually lasted a whole two hours! Next thing I knew I was awake and we were in Bangkok.
We met the owners of the lake, Eddie and Sam, and left the airport under police escort, which was cool. Four hours later we arrived at the Jurassic Mountain resort where we would be spending the week. It was dark when we arrived and from the outside it didn't look much. However, once we were inside the electronic gates, it actually took my breath away! Accompanied by the sound of running water was a paradise of beautiful plants and amazing accommodation. We went straight to the bar for a couple of beers and to catch up with some of the other lads fishing. All of a sudden the butterflies were there, and I was so gassed to be by the lake that I just had to go and stand out there by it. There were fish smashing out everywhere and it was so hot and humid. I felt like a weight lifted off my shoulders. Wow, I'm in Thailand and I've got six days ahead of me to go fishing!
I'm smiling now thinking about it!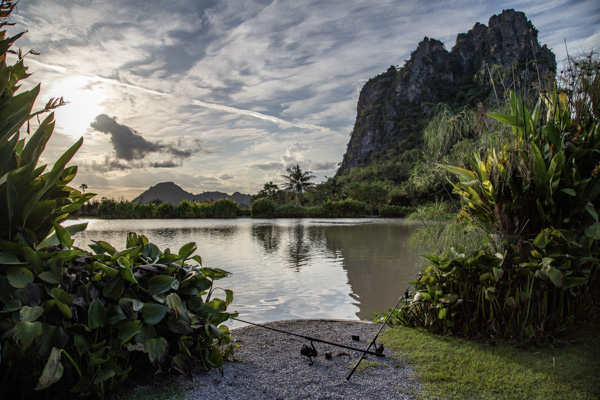 I woke in the morning to find the swim draw had already been done for me. You can't start fishing until 7am. I met with one of the guides Tom, who I have known for a number of years and I got my first real look at the lake. Basically, it's a commercial fishery nestled among paddy fields and mountains and surrounded by the most beautiful lush vegetation you can imagine. The thing that blew me away most was how they have managed to nurture these ridiculously big fish, with such a high stocking density, through their fishery management. I was in awe of what they had created and were maintaining.
There are 16 swims with a maximum of 11 anglers fishing, giving some flexibility to move, so I could angle. It wasn't like going to Rainbow where you were stuck in one peg for a week.
Each swim is equipped with power, a fan and you can call up for a coffee, milkshake or even a full English breakfast. Some people seem to think pushing a loaded barrow three miles is a really carpy thing to do. No it's not. Fishing out of the van is as good as it gets, if the fish are there. And this was like that but even better!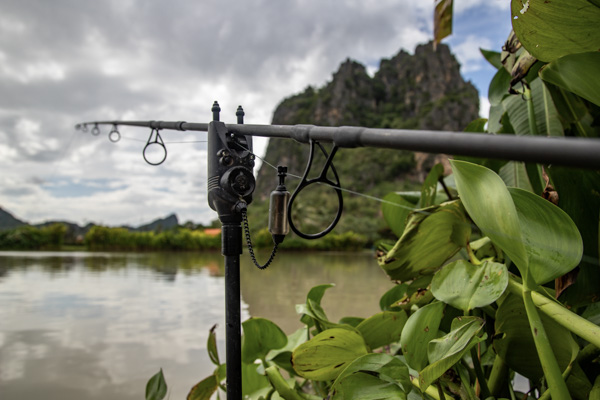 My target for the trip was to catch a big carp, and hopefully a big arapaima. The Siamese carp that live in the lake may look a bit different to the carp we normally fish for but they are still a carp, and indeed the biggest carp in the world, and as Martin explained to me far more natural a cyprinid than our strains of carp are, having been bred for food for millennia.
Catching them wasn't a massive change either. It was just carp fishing scaled up, and I had taken all my gear with me, which wasn't too much aggro at all. I had a 30kg weight allowance, which meant I could take a big bag with clothes, all my terminal tackle, bite alarms and reels, leads, Cultured Hookbaits and pop-ups, and also a rod tube containing my Scopes and banksticks. So I was basically self-sufficient with regards to my angling. I had taken 4.5lb Scopes, which I had never really used much before, coupled with the Scope GT reels loaded with Powerpro. The guides, owners and Martin told me they wouldn't make it through the week… we would see. It was the perfect extreme environment for testing.
The fishing itself… the only way I can describe it is like Drayton or Brasenose on crack!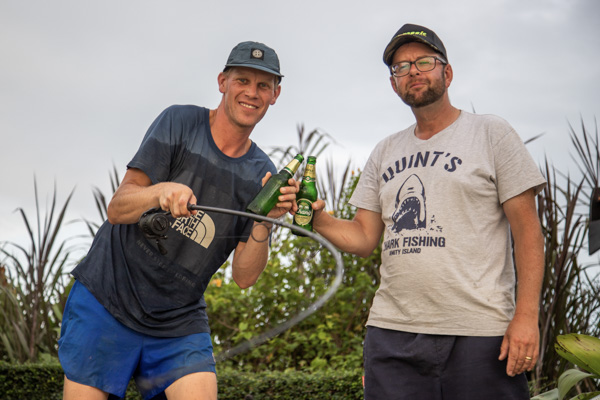 Just like in England, you arrive, take a rod, make some casts. Ascertain how deep it is. Where are the plateaux, the drop-offs, the marginal shelf? What features have I got in my peg? Using a bare lead I felt out my swim. I made a plan of attack, fishing a rod down the margin and one out in the lake over a bit of bait. I started off that day just boilie fishing using an inline lead, big length of tube, using a flying backlead to pin the lines down. This is a bit of a forgotten tactic, but these fish are massive so your liners are exaggerated tenfold. As much as there are plenty of fish in there they are not mugs. You need to pay a little attention to detail if you want to catch the most fish you can.
You need to keep feeding, like any high stocked venue. Don't expect to turn up, put out a kilo and be done. The peg needs to be kept topped up otherwise the fish will just drift off on to another angler who is doing a better job of feeding than you are.
It wasn't long before I started getting bites, and that first day I had numerous fish over 50lb up to 65lb. I've caught fish that big, but very few in my lifetime, so when you are catching them one after the other it's breathtaking. The fight, the bite, the sheer scale of them in your arms. It was an exhausting experience, but so much fun. It was mainly Siamese carp and red-tailed catfish that I caught.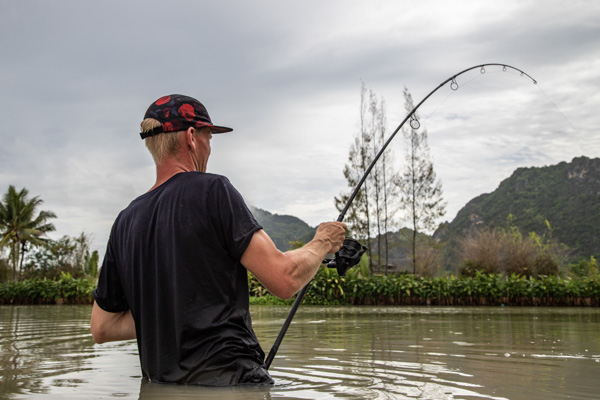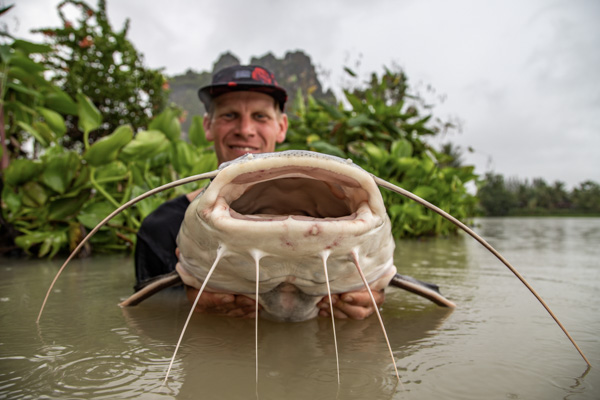 Next day I repeated the process, but from a different swim.
I decided I wanted to see if I could catch them up in the water. I could have done it with zigs, but I really love float fishing so rigged up a modified pellet waggler. Again the key to this method is to keep baiting, firing in pellets with a catapult, and I kept busy firing bait in constantly. I caught loads of smaller Siamese, giant vegetarian piranha and ended the day catching an enormous alligator gar. The fishing was truly amazing, action-packed, exhausting and I was having the time of my life.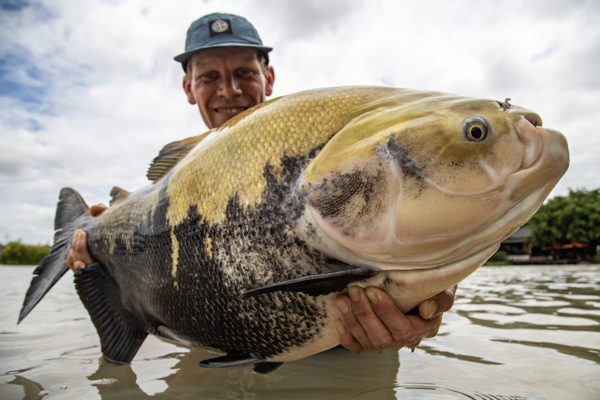 On the third day I had my biggest carp of the trip, which was 98lb. That took 45 minutes to land. It was a phenomenal fight, and I just couldn't get it up off the bottom. Fishing a Method feeder, I also caught some pacu and Indian carp. This particular species of carp were really spectacular with pearlescent scales. It's another forgotten tactic too, but one that I grew up fishing everywhere I went. Using a big bowl full of rice bran and coconut milk and squid powder we knocked up a mix that moulded round the lead and it couldn't have been simpler. I found it most successful to fish with a 12mm Scopex Squid pop-up popped straight off the Method feeder.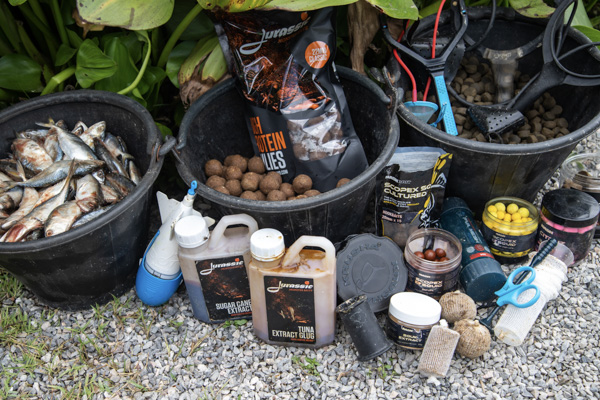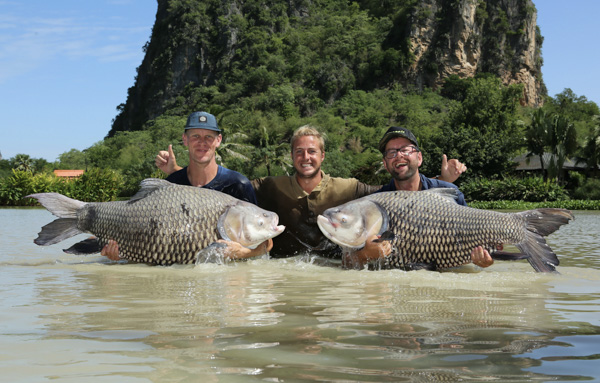 Over the course of the remaining days I had numerous big carp and catfish, and a couple of incredible arapaima, two over 200lb the biggest being a 220lb beast. Oh, and all the rods and reels survived – I even left two Scope reels over there for the lads to use!
I will never judge a book by its cover after that session. I have a newfound love for Thailand, not just the commercial side either. I thought that overstocked muddy puddles were not a bit of me but actually I absolutely loved it. After going out one night at 1am snakehead fishing with Tom I realise that there is also a lot of fishing out there that I wasn't aware of. Suddenly it has gone right up the list of destinations to go fishing and I will be going back at some time in the future, because as much as a 98lb Siamese carp blew me away, you can catch them nearly twice as big as that and I'd seen Martin with one of 160lb.
The lads that really caught well worked so hard and it certainly wasn't a case of turning up, putting a rod in and pulling them out one after another. It isn't like that. You could get lucky of course, and go and have a relaxing holiday and catch a few fish. Or you can put your heart and soul into it and come back with your whole body aching from the battles! I guess it's up to you as an angler. Either way, Thailand has loads to offer.