RIDGEMONKEY | Vault Tech Table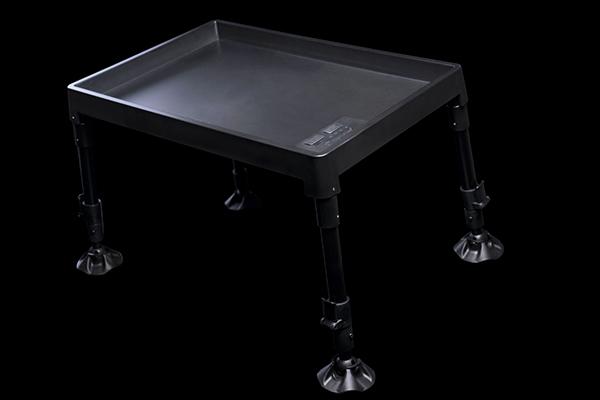 Once again the boys and girls at RidgeMonkey have been busy and raised the bar with the next evolution in bankside power! When fishing, where do you store your receiver, place your head torch, keep your keys, tie your rigs, eat your dinner, put your tea or just generally store all the knick knacks you need to hand throughout the session? Bucket lids, bag tops or the more modern bivvy table, right?
Well, not all bivvy tables are created equal, we can honestly say, and when we heard RidgeMonkey would be bringing one out, straightaway we thought one thing, one small specification that has become a fundamental part of the RidgeMonkey stable, and that is power!
Launched just a few weeks ago, the Vault Tech Table is a fully functional bivvy table, complete with folding height adjustable legs, large adjustable swivel feet, and a lipped wipe clean large working surface, but what sets this table apart is the removable, rechargeable and ingeniously expandable 9500mAh power capacity.
The Vault Tech Table allows the angler to power a wide range of devices utilising the embedded ports, an18W C-Smart USB-C Power Delivery output and a 5V 2.4A USB-A output; these outputs take no prisoners and are capable of charge your devices fast! Also the device can be charged from a power bank or solar charger should you need to top the unit up while out on enjoying your session, thanks to the 18W C-Smart USB-C Power Delivery input. A clear LED power display indicates how much juice is left in the tank, so there is no need to ever get caught underpowered again.
What we think is ingenious about this Tech Table design is that the battery output is infinitely expandable; the Vault Tech Table comes complete with an external charging dock and one rechargeable battery as standard. However, additional Vault Tech Battery 9500mAh units are available separately for just £19.99 and fitted to the table in mere seconds. This basically means that you can take enough to fuel your week long holiday in France or a single unit will happily power you for a 24-hour or overnight session to save taking your power pack along with you while giving you a spacious handy table to boot – it really is simply a multifunctional device, two jobs in one, power and a table, simple but brilliant.
The batteries can be charged within three hours, and have the capacity to charge any smartphone and or tablet as fast as your device will allow, thanks to the USB-C Power Delivery. Without going into too much technical jargon this is purely down the sheer quality of the li-ion battery, which going on existing products has brought RidgeMonkey pedigree status where bankside power is considered, making it quite possibly the market leader!
The large undivided working space allows the angler to use any size of tackle box, plate, mug, or accessory without being confined by some more segmented designs; this offers greater flexibility to all anglers regardless of what tackle you take with you.
RRP: £99.99
WEBSITE: www.ridgemonkey.co.uk