A DAY ON THE CIRCUIT | Fisherwick Lakes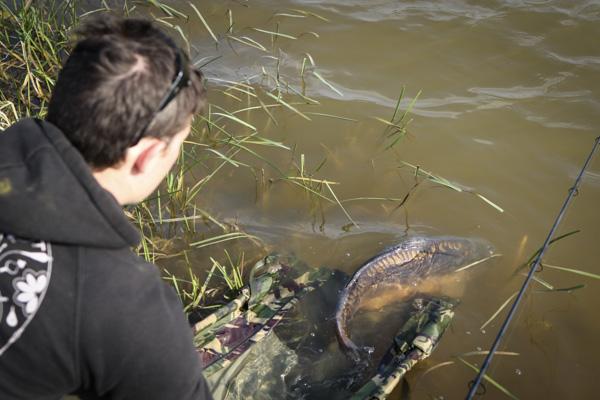 In this month's A Day On The Circuit I've had the pleasure of heading out on the bank with Bankside Cuisine's Simon Bishop, but it's not just the food that will be on the menu for today – hopefully some carp fishing action too!
It was time to put down the RidgeMonkey Combi Pan, pick up some rods and head around the banks of Simon's local Fisherwick Lakes in search of some day-ticket carp.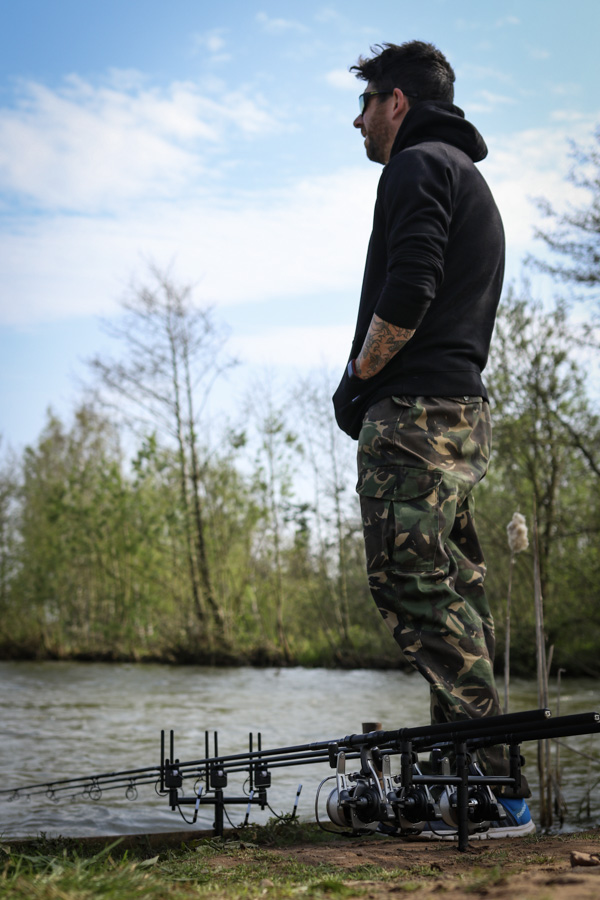 7.30am: After a near two-hour journey from Hertfordshire I rolled into the car park to find Simon had also just arrived, so grabbing a bucket each we headed off for a quick walk around Wadey's Pool in the hope of finding some fish.
A few anglers had been bivvied up from the night before, but the banks were relatively quiet and we soon found fish clouding up the water just feet from the front of a swim about halfway along the bank, probably on bait an angler had thrown in before leaving the previous day!
It seemed as good a bet as any for a quick bite, so we dumped the buckets, dropped a sprinkling of bait over a few margin spots to keep them feeding and headed back to the car park to grab the rest of our kit. Being out for just a day and with the weather due to be bright sunshine, we kept things super-minimal, leaving all the bivvies and bedchairs in the motors.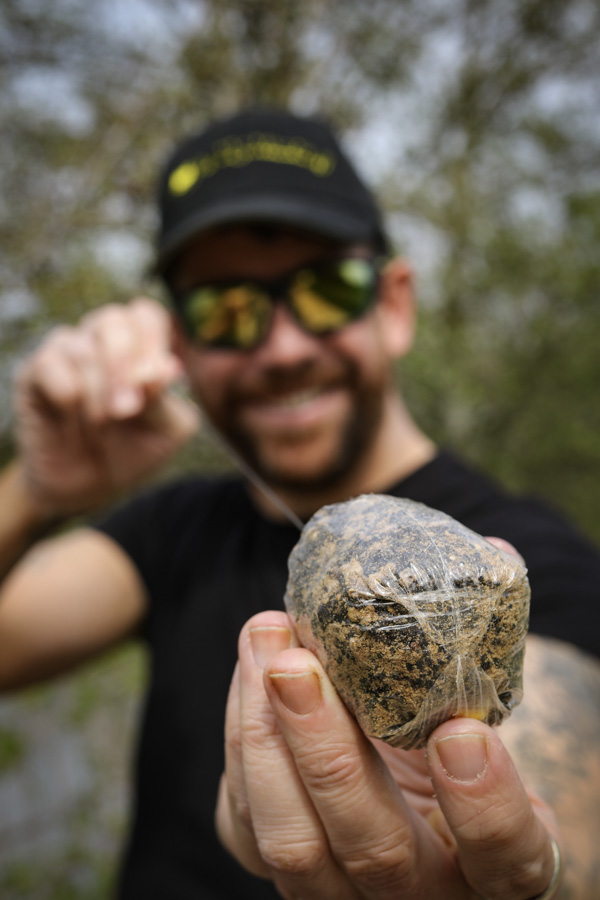 7.45am: Back in the swim it was time to get the rods out and we both reached for solid bags, which we could lower into the edge for perfect presentation. I set about loading a couple of bags with a little drop-off inline setup and a mixture of pellets and crumbed boilies. Simon however, was well kitted out for PVA bag work, with a good half dozen tennis ball sized bags ready tied up in a Korda Compac case, which he could simply loop on and lower into the margin, allowing him to get going in an instant.
"I do a lot of solid bag fishing because it suits my style. A lot of my fishing is close-in work on short sessions, so solid bags are perfect. I can easily move them around and always get perfect presentation and a little pile of bait wherever I go."
9.30am: We gave it a couple of hours in the swim, but other than a tench for Simon, the feeding activity dwindled away without a bite and having lifted my rigs out it soon became clear why. Both my rigs had been hooked into little twigs, indicating I had been stitched right up by those crafty fish.
With little action in my swim I was keen to head round the lake to look for more signs of fish, so left Simon to persevere in the current swim, while I had a look about. It didn't take long to find carp; mostly along the far margin, which you could only fish by casting across. However I had seen a couple mooching around in the edge, so I grabbed a rod, net and bucket of bait and headed up to the second to last swim where I managed to get a fish feeding, once again just feet from the bank! I lowered the solid bag in place and for a good half-hour the fish fed in the area, without giving the slightest flicker of my line!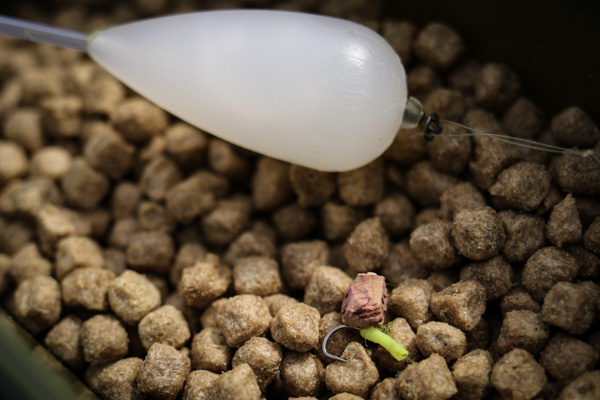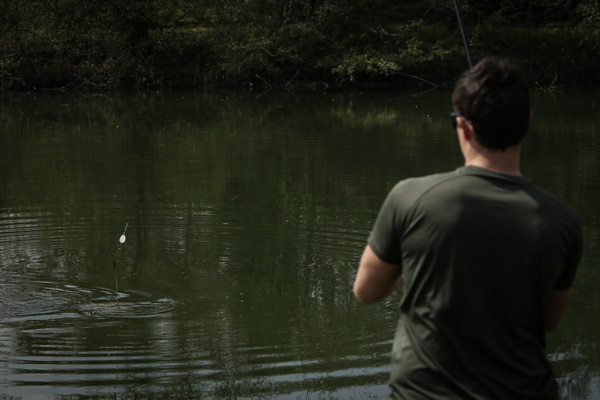 11.30am: Enough was enough and by late morning we decided we'd up sticks and head elsewhere, perhaps down to one of the other lakes. However, en route back to the car park Simon noticed a bunch of carp cruising around just under the surface – it seemed too good an opportunity to miss, so cutting off his rig, he tied on a large hook with a bread bomb to see if he could nick a bite while I headed back to the van to grab some mixers.
Having 'pulted a few mixers around the area, it was clear that the carp weren't really in a feeding mood, though the odd carp did sup at one if it drifted over its head. Having seen this I nicked a bolt machine controller from Simon and rigged up a simple surface setup with a tiny cut-down piece of cork. Flicking it right to the far side, I could then slowly draw the bait back right in the line of a couple of fish that were passing through. The fish were going to pass right under the hook bait, but as it drifted overhead, one lifted up and took the bait. After waiting a microsecond I struck and the water exploded, as the hooked fish surged across the surface! After a brief but tense fight I managed to land the first fish of the session and my first surface caught carp of the year at 13lb!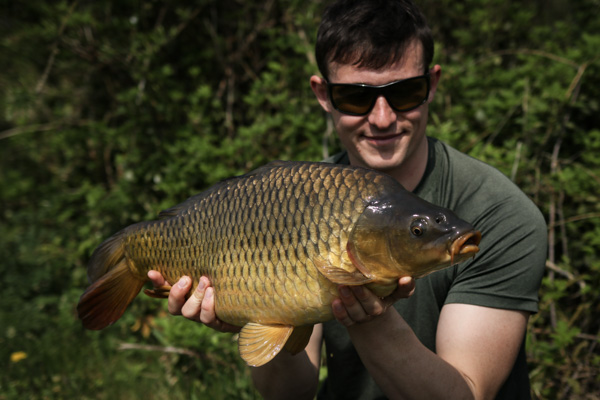 1pm: Most of the fish had dissipated by this point, so we decided to move lakes and head up to Dave's Runs Water, which is the most prolific lake on the complex with around 500 double figure carp up to mid-twenties.
Having fished the water in the past with great success Simon suggested we headed to the eastern bank, which remained relatively sheltered from what was a strong and fairly cold easterly wind. However, after a couple of hours and little to no signs of fish, it was clear the carp were elsewhere so we once again upped sticks and headed around to the opposite end to see if the carp were in fact on the end of the wind.
3.30pm: Once down the opposite side things looked a little more promising, with signs of fish right in the corner where the wind was pumping into. Simon fished accordingly, dropping a couple of rigs along the margins and to a fallen snag tree, which a few fish could be seen using. I headed a little further up the bank where the wind could be seen churning the clay bottom into a chocolatey brown colour, so I simply plopped a couple of solid bags out into the coloured water.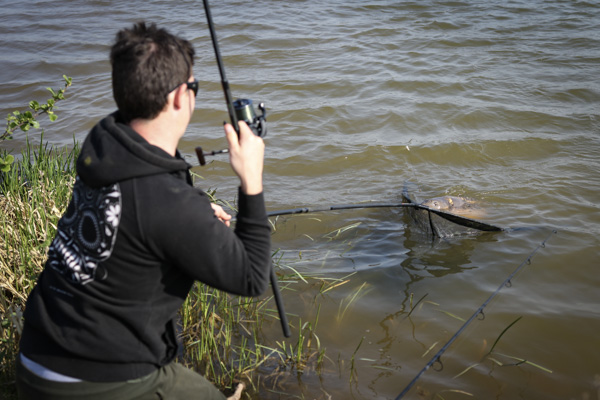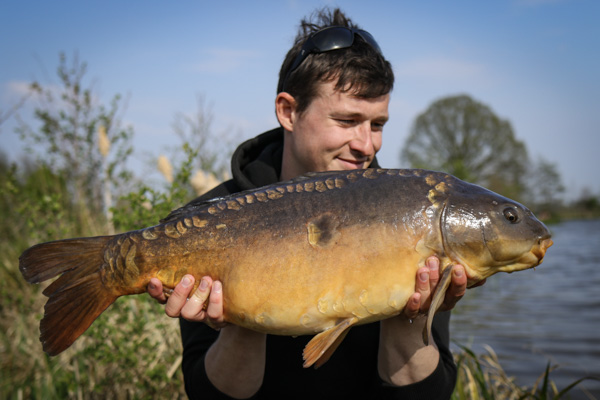 4pm: The final rod couldn't have been out for more than 15 minutes when a screaming Delkim signalled a take on my rods. Lifting into it I was happy to see a proper bend in the rod, revealing that it was in fact a carp on the end. As it first surfaced, it was clearly a nice sized mirror and I hoped and prayed that the hook-hold would stay true and the fish would go in the net. Thankfully it did, and I landed a beautiful 18lb mirror, with one big scale on its side and number of tiny little pearly scales down towards its tail.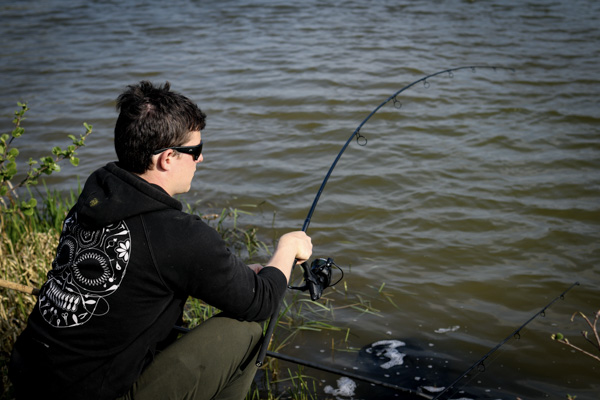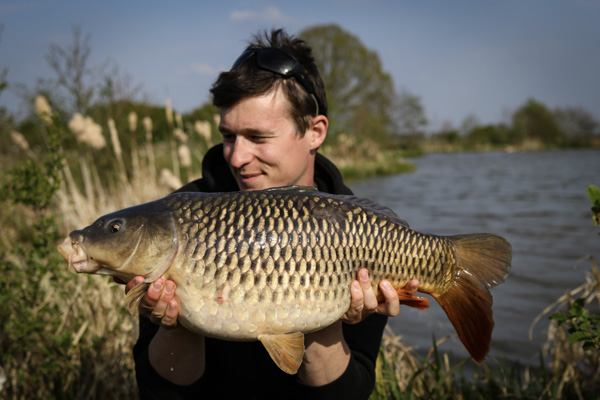 5pm: With another fish under my belt I was certainly happy with my day's fishing, but not long after putting it back we started to see numerous fish boshing out in open water, so leaving one rod in the coloured water where I caught the fish, I moved the second rod out on to the showing fish. It was relatively deep, but the bag cracked down with a solid donk, so I was more than happy! Within minutes that same rod was away with another screaming take and after another spirited fight, a short but chunky 16lb 8oz common was in the net!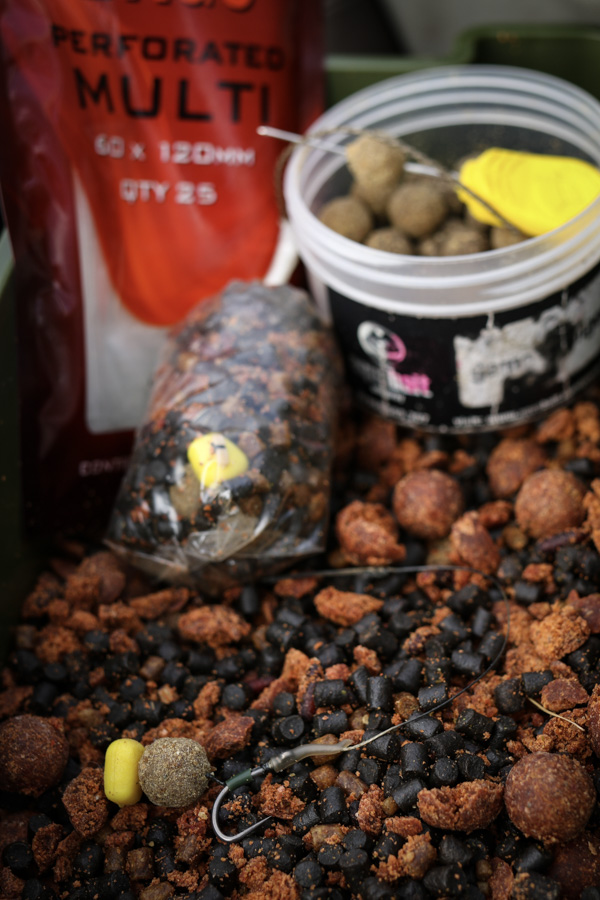 Simon also moved one of his rods out into open water, which quickly paid off, or so we thought… with a spinning spool, Simon lifted into the fish expecting the rod to hoop round, but instead it just came in like a dog on a lead – it was a bream! Adding to Simon's total of various species other than carp, we joked that he should probably chuck a rod out for the trout in the trout lake too, or chuck some big pellets out for the catfish!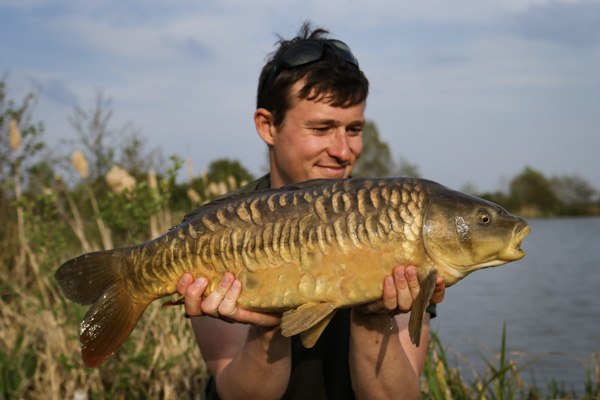 6pm: Fish continued to show out in open water; however, it seemed they were moving further left away from Simon, so he quickly packed up and shifted to my left to fish out in open water where they were showing. With rods back out in the pond, he set about rustling up a delicious little dinner of sausages and lentils, which was rudely interrupted by a stunning armour plated mirror of 14lb, once again on the open water rod where I had caught the common.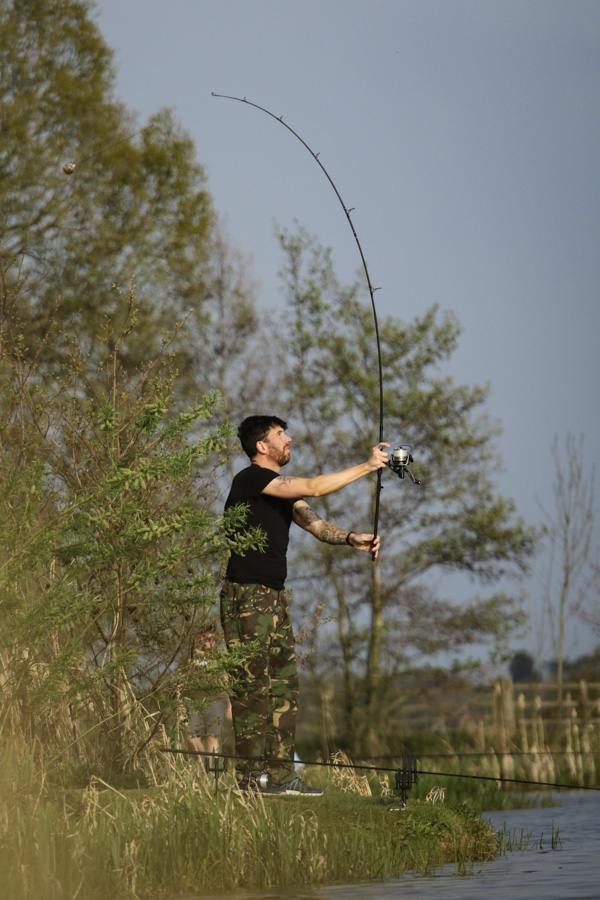 We stuck it out into the evening, but no more fish came our way and the showing petered out. Rather than stick it out until dark in the hope of a final bite, we'd both had an enjoyable day, so Si suggested we head to the local pub for some ice cold refreshments before heading home – good choice!
If you're local to the Lichfield area or simply fancy giving Fisherwick a go, it's certainly worth the trip. With three main carp lakes, alongside numerous match pools and a trout fishery, the Fisherwick Lakes complex has something for everyone.
Day tickets are available for the specimen lake and Dave's Runs Water, as well as day-only sessions on Wadey's pool. Fishery membership is also available, providing cheaper ticket rates and the option of also night fishing on Wadey's.
All tickets are available from the on-site lodge with café, and any further information can be found at www.spanglefish.com/fisherwicklakes