Win a Wychwood Small-Water Setup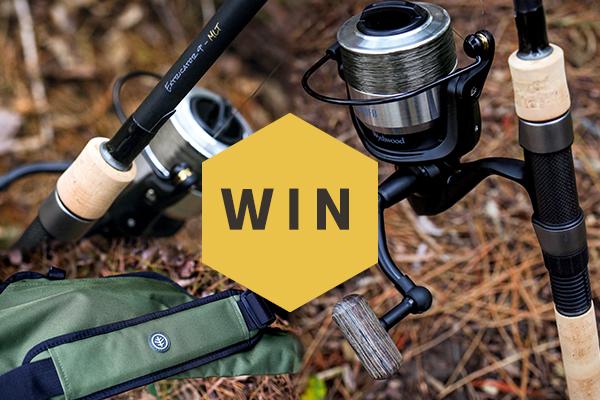 This competition is now closed, the winner was Steve Leftwich from Essex.
Thanks to Wychwood we have a fantastic small-water setup to give away, worth £207.94!
Utilising Multi-Layer Technology, the Extricator MLT 9ft rods were designed primarily for short to medium range. Do not be fooled into thinking these rods lack power though, as in the right hands they can comfortably put a lead over 100 yards.
However, where stealth is required, particularly in hidden holes, bushy overgrown swims and many urban waterways, these really do come into their own.
We love the classic touch that the cork handle gives and with a through action, these sticks will bend when needed, but retain enough backbone for you to end the fight when needed and subdue even the most angry quarry.
To complement a stealthy compact rod, you need a balanced reel to do it justice and that is exactly what these Extricator reels are designed for! While offering the casting benefits of a large spool with modern, finely tuned line lay, these reels remain compact, boasting a front drag that is effective and responsive, and just one complete turn of the micro-pitch multi-disc drag takes the Extricator 5000FD from freespool tension to a fighting drag.
With understated retro looks, a lovely dark wooden handle, smooth chrome coloured spool and a matte black magnesium body these reels also look slick as!
Protection is key when creeping through the undergrowth, throwing your kit on and off public transport or generally just for preserving the gear that ultimately puts fish on the bank, and the team at Wychwood have specifically designed the MLT sleeves to work harmoniously with the Extricator setups. With a carry handle, two-way zip and built from a durable material and water-resistant backing, these sleeves will keep your gear in tiptop condition for many seasons to come!
Here's what's up for grabs!
2 x Cork Extricator MLT-C 9ft Rods
2 x Extricator 5000FD Reels
2 x MLT Sleeves
For your chance to win a Wychwood Small-Water Setup, simply answer the question below.