Win! Sonik Insurgent Carp Rods and Reels!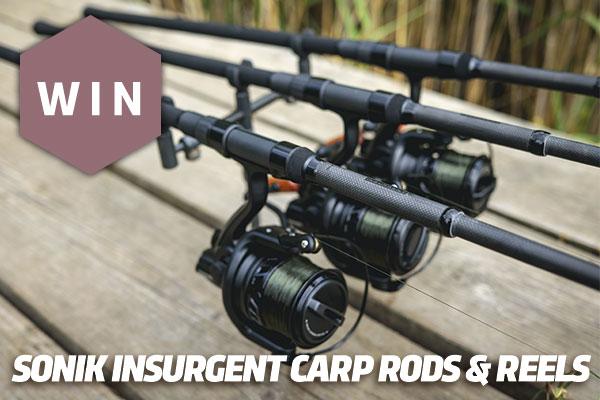 This Competition is now closed. The winner was Mark Graham from Ipswich.
Check out what you can win…
Sonik Insurgent 9ft 3.25lb rods
Featuring a superior playing action and breathtaking aesthetics these specialist tools have been based on the design of previous retractable-butt carp rods such as Sonik's own Xtractor rods, yet this model looks at getting the very best performance possible, being lighter, quicker and more responsive.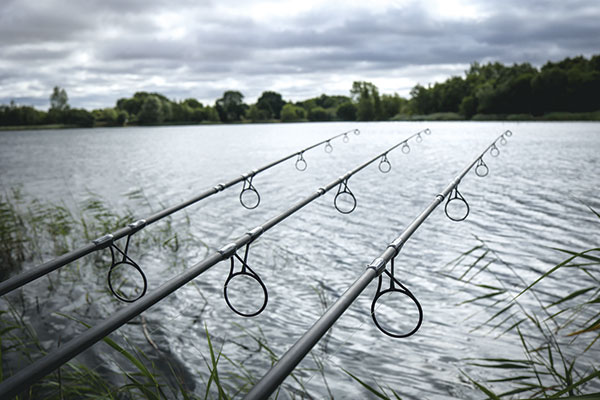 This has been achieved by using a number of new materials and utilisation of the latest high modular Toray carbon blank gives the rod a significant advantage over cheaper models. Aesthetically these rods are truly beautiful; the 1K armoured weave running along the entire length of the rod gives an appearance of a rod costing double that of the Insurgents. Significant weight has been saved by utilising this material and the theme continues with the super light M-Series DL black guides running along the blank with a 50mm distance guide pattern. This large butt ring ensures that distance casts can still be made and with an anti-frap tip you can really wind up on a cast and propel the lead further than ever before on rods of this specification.
Because of the retractable butt, the transport length of the 9ft rod is cut down significantly, folding down to 44 inches in length, which can fit in the boots of many cars!
The matt finish of the Insurgent Rods gives it an almost custom built look and the slim Japanese shrink rubber handle provides the classic final touch. An 18mm Fuji DPS reel seat will house any reel but to balance the setup well a medium sized big pit would do the job nicely, especially when distance casting may be required at times, and we have just the job…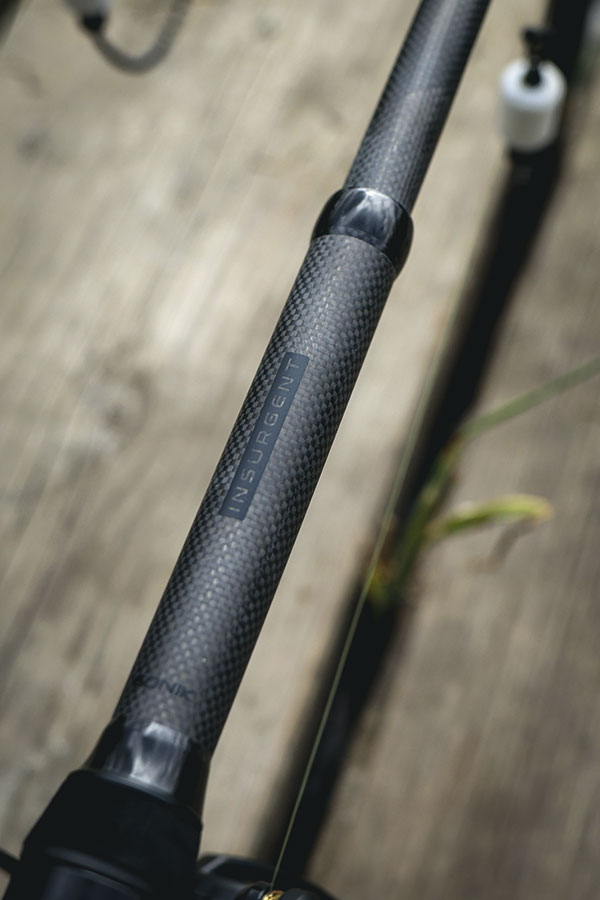 Sonik Insurgent 5000 Reel
When paired with shorter rods such as the 9ft prize variants, attaching a big pit reel seems a little overkill! Medium baitrunners may lack the performance carp anglers are looking for, but this doesn't apply to the Sonik Insurgent 5000. In reality this is a big pit reel scaled down to suit the light compact rods to make for a truly balanced setup.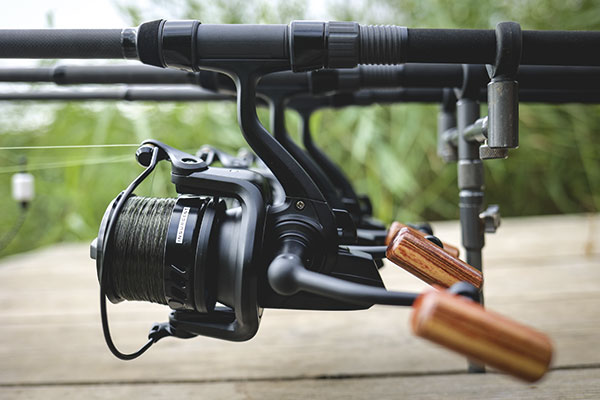 Striking in appearance and finished in matt black these reels are jam packed with features too! The body has been constructed from a high strength graphite, so not only is the reel wonderfully durable it is surprisingly lightweight too, weighing in at just 535g. With five ball bearings, quickly skimming a rig back in and launching it towards a showing fish has never felt so good!
Getting the rig bang on the money is critical though, and there are two spring loaded captive line clips installed on to each spool. The wormshaft gearing system helps line to lay perfectly and in turn will melt off the spool when casting to any sort of distance, with reduced risk of any frapping. Up to 280 metres of 0.35mm main line can be loaded on to the spools, meaning if you are a braided line user then the distances can be increased significantly.
Sonik's Quick-Torque drag system is highly responsive and allows a free running spool to be locked up with only a slight rotation of the drag. The clutch is as smooth as butter and allows line to be taken effortlessly with no fear of a big fish falling off after a powerful and unpredictable lunge. To top everything off there is a wooden handle knob.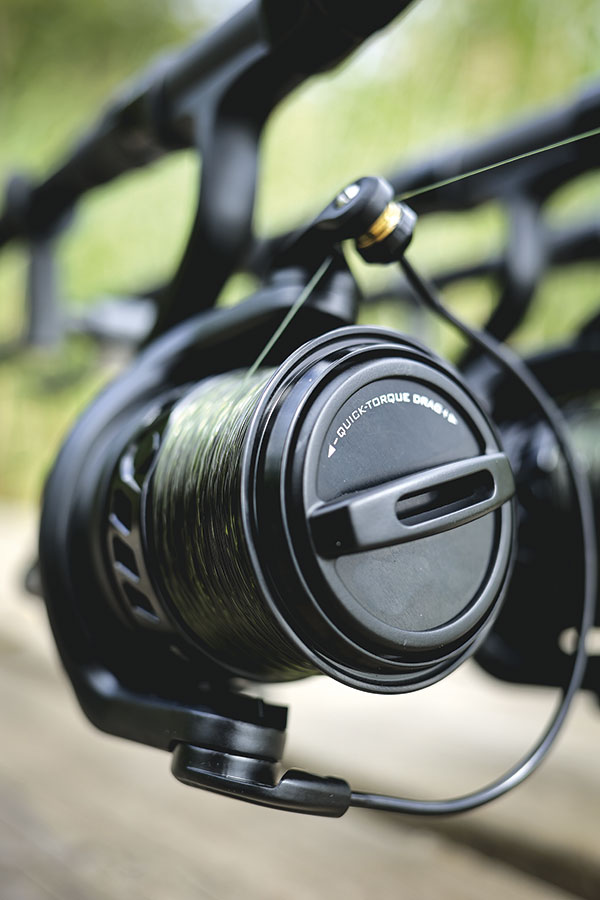 Insurgent 5000 Reel Features
• Graphite body and rotor
• Micro line lay adjustment
• Anodised aluminium handle and wooden barrel knob
• Matt black finish
• Twin spring loaded line clips
• 5+1 ball bearings
• Quick-Torque drag system
For your chance to to win this Solar bait bundle, simply correctly answer the following question (multiple entries will disqualify you)