Win six pots of the DT Baits Cult Classic pop-ups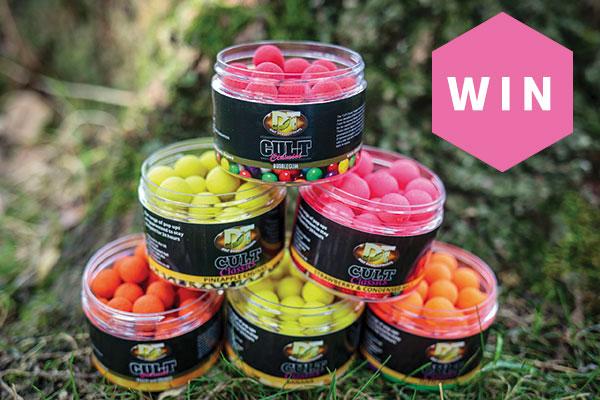 CLOSING DATE: Friday, November 19th, 2021
Here's your chance to get a taste of the Cult Classic pop-ups, worth £39!
Pop-ups come in all shapes and sizes and in virtually every flavour you can imagine, but they also need to be reliably buoyant, leaving us in no doubt that rigs will be sitting perfectly even after long periods of submersion. DT Baits' sensationally flavoured hook baits can comfortably hold up the largest of hooks and as we make our way into the cooler months, one line that is of significant interest is the Cult Classic Pop-Up range.
Bright in colour and full of flavour, the range is based on the historical recipes lovingly formulated by DT Baits throughout the years, including Pineapple Chunks, Strawberry & Condensed Milk, Banana, Tutti Frutti, Scopex, Peach & Orange and Bubblegum.
Cult Classic Pop-Ups are rolled in 15mm, a popular size for the various pop-up rigs commonly used today, where hooks and various components require suspension. Their texture is great for trimming down to create your very own slow sinking hook bait to settle on detritus or weed as well as to sit enticingly on top of a mouth-watering PVA bag mix.
The ideology behind the creation of the Cult Classics was to create a hook bait that would catch off guard the fish living in pressured waters that were regularly targeted with large beds of matching boilies. Even on the trickiest of waters, these sublime taste sensations have made a real impact and have accounted for lots of big fish sitting in landing nets at home and abroad.
DT Baits has gone for a natural pop-up mix, resulting in a durable yet spongy bait that leaks flavour for an extended duration and which can be tied or pierced.
To win these DT Baits Cult Classic pop-ups, simply correctly answer the following question (multiple entries will disqualify you):