A DAY ON THE CIRCUIT | Steeple Fishery (Video)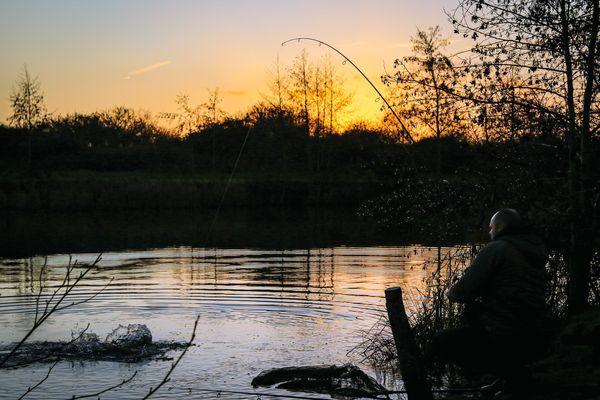 8:45am: After an hour and a half drive in the dark I finally rolled down the track just as the sky was filling with colour on the horizon. It was my first view of Steeple Fishery, an intimate slender farm lake surrounded by Essex countryside.
The lake was Dean Macey's first choice for a bit of winter carping action, having fished it several winters past and it looked like he'd hit the nail on the head. Just as I stepped out of the car for a better look, I saw Dean on the far side run down to his rods and bend into one! How's that for timing!
I quickly grabbed the camera kit and sauntered around the lake. Even Dean was impressed with my athleticism while fully wrapped up in winter clobber… or not! I finally got into the swim with a bit of a sweat on to find Dean playing a fish with his net still rolled up in the rod sleeve – rookie error Deano! Luckily I got there just in time to piece it together and slip the net under Dean's first fish of the day.
This gnarly 21lb original kicked things off nicely.
Dean Macey: "Well what a result, I'd literally only flicked that rod out just as you arrived at the gate and wasn't really expecting it to go quite so soon, as you can imagine! I'm casting across to a nice big reed bed on the far bank where the carp are clearly holding up.
"I fished the same spot last week and managed three twenties in four hours fishing, with all the bites coming once the sun got right up behind me, beaming down on those reeds. To have one so early in the morning is a right result and hopefully a sign of things to come!"
It was a gnarly old looking common and to our surprise, weighed in at over the 20lb mark! With the sun just creeping over the horizon it made a lovely picture, perfectly capturing the essence of a crisp winter morning! Dean quickly clipped on a new hook link and accurately flicked it some 50 yards over to the spot. With the rods back in action we took the opportunity to make a quick brew and chat a little about the lake before I headed off back to the van to grab my own rods.
What a start!
DM: "First and foremost, the reason why I picked this water is because last winter, being one of the mildest I can remember, I actually didn't pack the carp rods away. As I'm sure you already know, I'm very much an all-round specimen angler, so usually when it gets really cold I head off in search of other species that are in their prime; things like big chub, grayling and perch. In my mind, I'd have a couple of blanks, then I would pack the carp rods away until spring. However the action just kept coming all winter long and I only had the odd blank.
"When you're coming into another winter you look back at your past results, and even on the worst days, Steeple kept producing bites. When you locate carp where they really want to be in the colder months, you can almost guarantee that most winters they will be back in the same place and that's exactly what I'd found here!
HOME - you can see where the carp have created runways through the reeds.
"Generally the depth of this lake is in the region of about 10 feet in open water, but there's a rod-length wide shelf running all around the lakes margins at about 4ft depth. A big reed bed like that is always going to offer the carp plenty of cover and natural warmth, but it also receives the sun all day long so, as you can imagine, when those top few feet warm up on a crisp, sunny winter's day that's going to be where the carp want to spend a lot of their time."
9:30am: With our coffees drunk, we headed round the corner of the lake to check out exactly where Dean was casting across to. Here a few large reed beds protruded from the banks and you could clearly see the gaps and runways through the reeds that the carp use to navigate. Dean took the opportunity to top up his spots with a good few handfuls of glazed up boilies, before I headed back to the car park to grab my kit.
Don't be afraid to give them a bit of bait - feeding little and often can really build their appetite in the winter.
DM: "I've really not been doing anything special – I'm a very simplistic angler and of the opinion that if it ain't broke, don't fix it! Now, I do know how devastating maggots can be for carp fishing in the colder months, but to be honest, they can be a real pain to use. You've got to keep them fresh, they only last a short while anyway before beginning to turn and I'm sure you all know what happens when they all escape in the back of your motor. As such, if I can get away with boilie fishing like I am today then that's what I prefer to do! As you can see it's clearly working, so why make life harder!
"It's a really simple tactic - 10mm Cell boilies glazed up in the matching stick mix liquid, with a 12mm wafter hook bait over the top. Boilie fishing in this way is a tactic that I've used on loads of waters over the country and it just seems to work. If you think about what a carp naturally eats, it's mostly tiny little particles so I just think they are quite happy to eat these smaller boilies."
Dean gives his boilies a good dousing with stick mix liquid.
10:30am: Sure enough it was exactly what the fish were wanting and just after arriving back at the swim with my own gear, Dean was in again. A short tussle in open water resulted in a smaller and more pristine looking mid-double common. Then almost immediately after netting that one, one of his other rods rattled off. This one fought hard and for a moment we thought it was going to be a bigger one, but shortly afterwards another mid-double common surfaced for the net!
Its not long before the other rod is away....
DM: "I've been intent on keeping a steady trickle of those 10-millers going in on the spots all day long. I didn't want to overfeed them that's for sure, but at the same time if you can feed them with regularity you can actually go through a fair bit of bait. I'm sure that when you get a bite there isn't just one fish on the spot and quite often they will be clearing you out when you get a bite.
"I find that the more positive you end up fishing ie. catching and rebaiting over a certain spot, the more and more action you will get from that spot. It's like a snowball effect."
12 Noon: With half the day already slipped away and carnage in Dean's swim, I decided it was about time I left him to get sorted and get my own rods out in the swim next door. First job was to pop around the far bank and scout out a few likely looking area to fish to. I grabbed my bait bucket with a mixture of maggots and boilies, and lightly fed a few zones where I could drop a rig close to the bank or some cover.
Back in the swim, it was then simply a case of casting a bare lead without a hook link to the spots to get clipped up and wrapped out. Incidentally, the first cast with one of the rods landed so close to the bank that it actually wedged into the clay! Not to worry – rather than try and pull from my bank, I took the opportunity to head round and pick the line out with the aid of a landing net handle. I could then simply clip the rig on, and use the handle to hand lower the rig in place before trickling another handful of maggots and chopped boilies over the top. How's that for precision!
Each of the rod was fished with a little popped-up Medusa rig with various small pop-ups topped with half a dozen maggots. I then fished a little PVA sausage of maggots and crumb for a concentration of attraction around the hook bait.
A simple wafter rig is Dean's weapon of choice.
2:00pm: With a bit of filming out of the way and very little action over the last few hours, Dean decided it was about time he freshened up the spots with a recast and some more bait. I noticed that he wasn't wrapping up at all and just casting to the clip from a single wrapping stick placed a rod length back from the edge of his swim.
DM: "This is a neat little trick that I take from my match fishing, which I do a lot when I'm fishing tight to a far bank, or an island, basically anywhere where I'm fishing locked up and the fish will only kite or drop back towards me. I keep the rod in the clip the whole time but I cast well back from the front of the swim so that I can get several turns on the spool as I wind down to my alarms.
"I used to just draw a line in the sand to cast from, but you end up walking over it and messing it up, then next thing you know the rig lands in the reeds! These days I just use one of my Cygnet distance sticks pushed into the ground as a distance marker. It's super-simple, super-accurate and saves a whole load of time faffing around with distance sticks!
"If possible, I'll almost always choose to feed little and often. It's the best approach in almost every form of angling, ensuring that there is always some food in the swim but never too much. If you do one big hit of bait and they clear you out, you'd never know and wouldn't introduce more bait… or if you did, you could quite easily be adding to a pile of uneaten bait.
"However, by baiting little and often you can keep a fresh scent trail going into the water, and even if there is some uneaten bait down there you're never adding so much as to overfeed them and reduce your odds of getting a pick-up. Fishing across to a far margin is perfect for this sort of feeding approach as you can just nip round and spread a few small handfuls around the area."
You just can't beat day session action on a crisp winter day!
15:00: Almost to script, shortly after rebaiting the area, Dean's banker rod on the reeds was away again and this time held its ground tight to the reeds for some time. The fish zig-zagged its way through the swim, wiping out his other rods in the process, before eventually surfacing a few yards out where we could see it was a decent sized mirror. I'd opened the bail arm on the other rod and luckily the fish ditched the trailing line of its own accord. After a few tense moments in the edge, Dean scooped up the first mirror and potentially the last carp of the day. At 23lb not only was it the biggest of the day, it was also by far the best looking fish too!
What a result - a cracking mirror is in the net!
DM: "Well there you go, proof of the pudding! I was only just saying how a bit of fresh feed going in can generate a bite, then lo and behold it was away! Quite often people think that the carp don't feed in these crisp cold conditions, but they really do if you can get right on them as I have done here.
"I don't think you're doing anything wrong at all, I just think the carp aren't there like they are in this area. It's simply a case that if you give them a bit of bait next to their home then they'll eat it. I think the fact that my furthest left rod has barely moved an inch all day proves that point perfectly, despite being fished in exactly the same way as my banker spot.
"I've found that this area fishes really well during these high pressure, sunny days, most likely because we are fishing in the shallow water near the reeds. I'm guessing if it had been really overcast they may have pushed out into that deeper water to feed, or just stayed tucked up in the reeds themselves. I did consider that if it was going to be really mild, overcast and super-low pressure to just give it a good hit of bait down the bottom of the shelf as that has also worked on occasion in the past.
"Either way, I've had a great little session and that mirror has been a perfect ending for me… unless that last rod goes off!"