For me, winter is a great time to be on the bank. It's generally a lot quieter when compared with the other seasons, when fair-weather anglers are out in force. This allows me to walk around undisturbed and generally get on the carp with a lot more ease. Carrying on from that point, if you can find them, the carp are generally a lot more tightly shoaled, so if you find one the chances are you will have a fair few more. Secondly, the fish are taking on their winter colours and this is when they often look their best and have had the time to recuperate from the rigours of spawning and any related damage.
For the big-carp anglers among you, this has to be one of the most important reasons to be out there. The carp are generally at their heaviest, so, with a little hard work, this is when targets can become a reality.
Boilies are one of the most versatile baits on the market with regard to colour, size, flavour and how you can introduce them, be that via spod, spomb, catapult, throwing stick – the list continues. What's more, they are by far one of the most selective baits. Of course, using sizes relative to what is in the lake you are fishing you can tailor your approach to keep what are often regarded as nuisance species at bay. For example, I wouldn't fish 10mm baits with high stocks of bream, tench or even big roach. It is for these reasons that they are my all-time favourite go-to winter bait. They are great for the fish and sustain the weights and, more importantly, health of the carp, especially with the modern techniques and ingredients involved within the bait-making industry.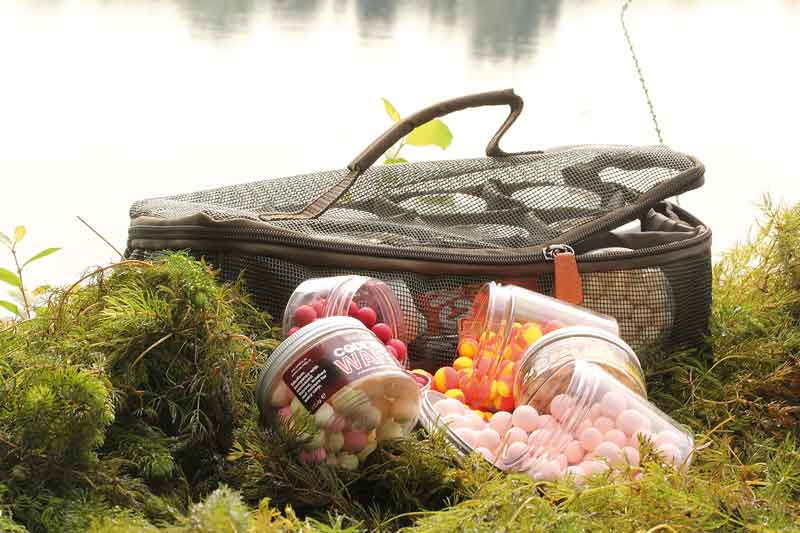 A bag full of bright baits helps Ian to change things and keeps the bites coming.
The waste aspect is a big part of my choice to use them. Even if the carp don't eat them, the lake's other residents will. Invertebrates and wildfowl will often gorge on unwanted bait, thus utilising the protein levels and excreting various usable nutrients for both aquatic flora and fauna to flourish.
Years ago, many anglers would refrain from using fishmeal-based baits in winter. However, with the modernisation of ingredients, and in particular LT94, which is a highly soluble low-temperature fishmeal, this is a thing of the past. The carp will be able to digest the bait, but you should still approach the volume with caution. Even with bird food mixes it is a common misconception that you can introduce as much as you like. You will fill the carp up and trying to conjure up a bite from that area will often be a lot harder than it needs to be.
Throughout the year I will use bright baits, especially as a single presentation. However, as soon as the misty mornings arrive and the temperature starts to plummet, I will be looking at winter baits, so to speak. A fleck of colour, whether it be a pink pop-up or the inclusion of corn, really comes into its own, catching the carp's eye and playing on their inquisitive nature.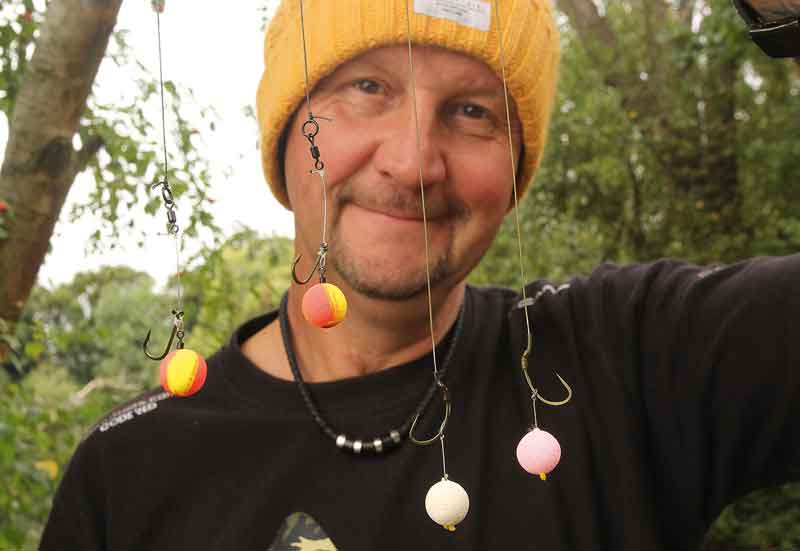 Two rigs, two presentations – it doesn't need to be complicated.
Depending on how far we are into winter will determine how much bait I use. I am renowned for fishing for big hits of carp as opposed to just one bite, so I will often begin by putting out a good bed of bait, venue depending. Anything up to five spombs at the beginning and by the end of a three-day session it is not unusual for me to have gone through 10kg, providing the action was still coming.
Don't be scared of giving them some food. In certain situations this is what they are waiting for but equally err on the side of caution and build your swim up. Don't put out your bait allowance in one go at the start of your session and choose your loose feed wisely.
I generally use smaller baits, such as 10mm boilies, corn and hemp, which will often replace excessive amounts of pellets purely because the carp can process these much more easily. Equally, groundbait is a fantastic way of increasing attraction without actually feeding the carp and Sonubaits Hemp & Hali Crush is a great choice, offering serious amounts of leakage. Remember, with the carp being a lot more lethargic due to the colder temperatures, you don't want to fill them up but keep them grubbing around in search of these smaller food items. A moving carp is much easier to catch.
It is a common myth that anglers fine down their tackle and particularly their rig components in winter. I like to think that the size of hook I'm using will not stop the carp picking my bait up.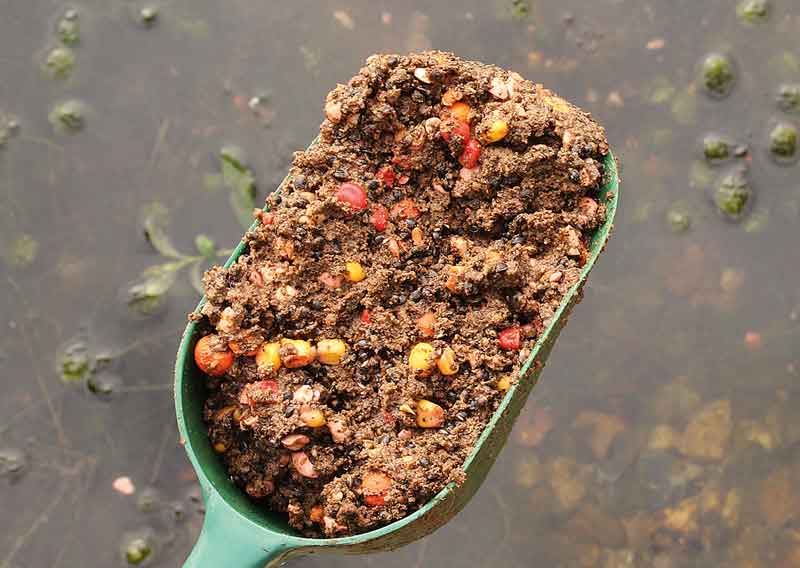 I have a pop-up and wafter rig that I use all year round. Using a size 6 or 8 hook, I match it according to the situation that I'm fishing in and ensure that they are most definitely strong enough. For my wafter presentation I favour an Avid CRV in a size 6 and a Longshank pattern in a size 8 for my flick pop-up rig. A 12mm or 14mm bait is perfect for either of these presentations and the 12mm bait works particularly great over the mix of smaller feed items. I stick with these presentations because they work all year round and I have plenty of confidence in them. There is no point chopping and changing because the seasons have altered. Stick with what you know and you will be better off for it.
I will attach a small PVA mesh bag of pellets to each rig. Now I must stress that I do use high-oil pellets but I use them in bite-size volumes. Don't turn up and spod out 5kg because they don't leak off and breakdown the same as they do in the height of summer. Nevertheless, using them in small quantities to help tempt a bite is something that I do all year round and I am sure it makes a difference to my overall catch rate. I like to think a small bag helps me by localising the area to my hook bait.
Oil is a funny liquid to use in winter and after several tests carried out in my fridge at home, sunflower oil is one of the best to use in colder water temperatures. However, and this is a big point, only boost your hook baits. A high-leakage oily hook bait will work wonders as opposed to a stodgy high oil content spod mix. Also, it is easy to boost your attraction by incorporating liquids into your mix. Food dips and liquid attractants, such as Sonubaits Code Red Glug, are ideal for this and will dissipate through the water column, but always check a little bit in your fridge first.
The most important aspect of winter fishing is getting the energy to get out and go. The last thing you want to do is to muster the motivation to get out on the bank and not have the right baiting strategy to employ. I don't believe in a magical flavour, or perhaps we just haven't found it yet. Pineapple grows in popularity in the colder months, as does Tutti-Frutti, but is it a case of just more people using them? Learn from your experiences and stick with what you know works, but sometimes a bright hook bait is just what you need to turn the tide on your luck and get a bend in the rod.
Maggot Myths
There is no disputing that maggots are a fantastic bait and I would be lying if I disagreed. However, use them in moderation. Over the years I have witnessed many a fishery's demise due to anglers turning up for a quick overnighter with five gallons. Not only is this expensive but it is of no benefit for the carp or the fishery.
Certain lakes have turned coffee brown due to anglers filling it in with gallons and gallons and this can often lead to a rather dangerous spike in ammonia levels. Once an angler has published his success on social media it seems that the angling fraternity soon follow suit. Maggots alone are not a suitable dietary supplement for carp. They do not keep the weight or condition of the fish up and it also makes the fishing a lot trickier than it needs to be.
Rob Maylin proved years ago that just a large PVA bag of maggots fished in conjunction with a mag aligna is all you need to use. By all means use maggots but there is no need to do so in such excessive quantities.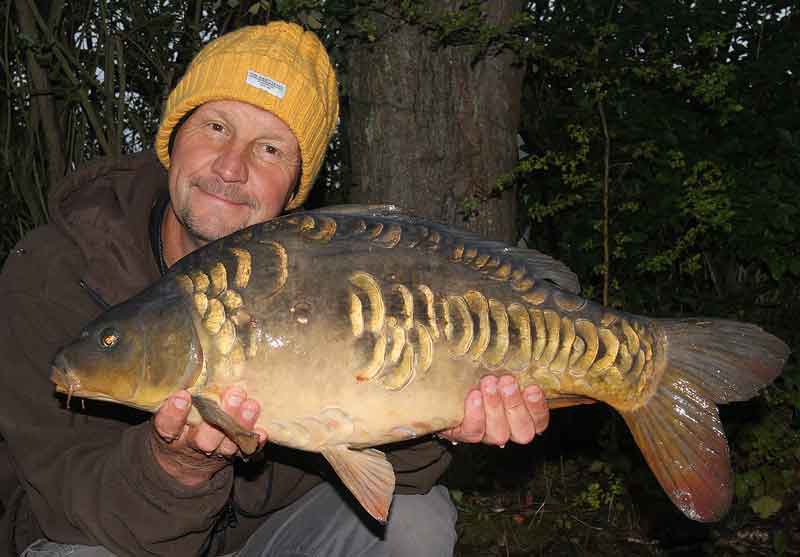 ... a pretty little mirror couldn't resisit a bright pink pop-up.
Like what you see?

Or buy a single issue